"Versace is always the ultimate aspiration," remarks Dua Lipa. She is situated on top of a parking garage in Los Angeles, surrounded by a lively group of fashion editors who are exhausted from the Paris runways, stylists who are taking a break from their celebrity clients in preparation for the upcoming Oscars, and K-Pop princes sporting eye-catching, bright-colored suits. Elton John speeds past on a golf cart as the sun begins to set.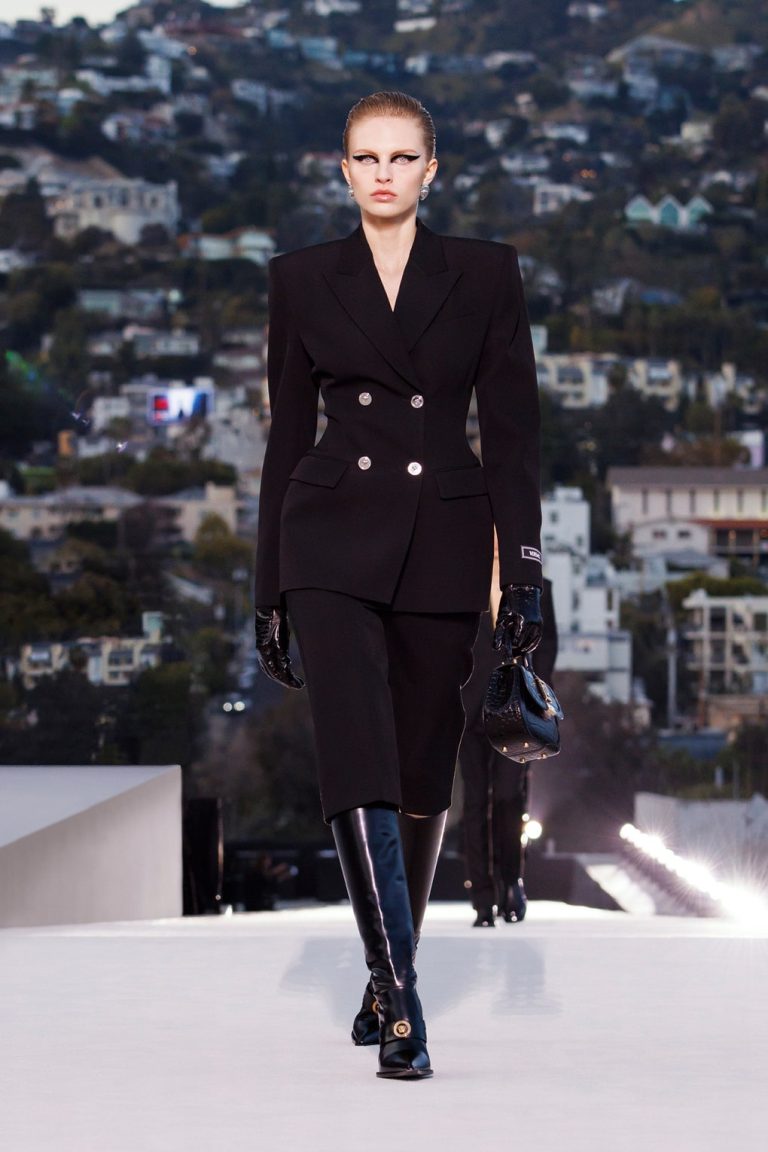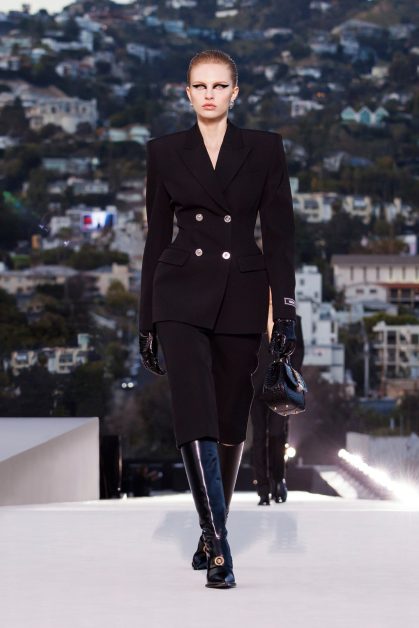 The golden hour has arrived and it's time for Versace's fall/winter 2023 show, which has moved from Milan to Melrose Place this season, harnessing the way everyone in Hollywood is chasing clout – fame, power, art, or simply sheer attention – while still attempting to stay grounded, or at least claiming to do so. If the world of Hollywood is just an illusion, it is one with actual consequences and authentic feelings hidden beneath its glossy exterior.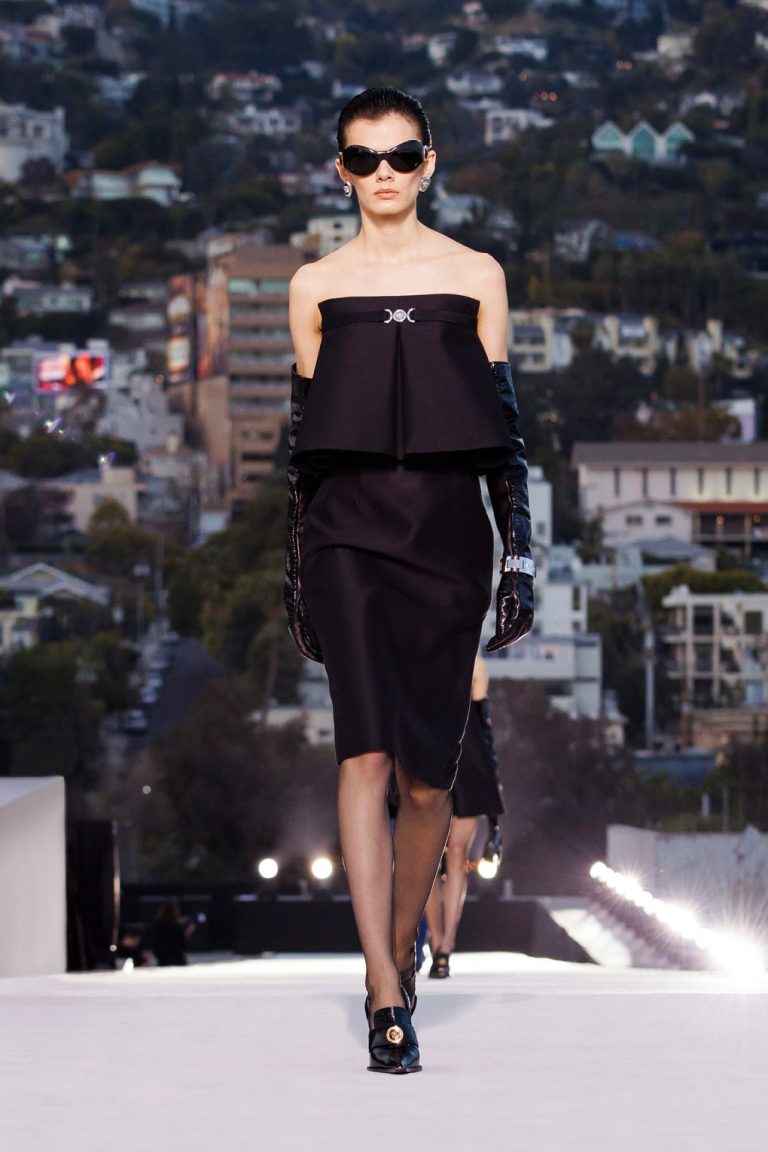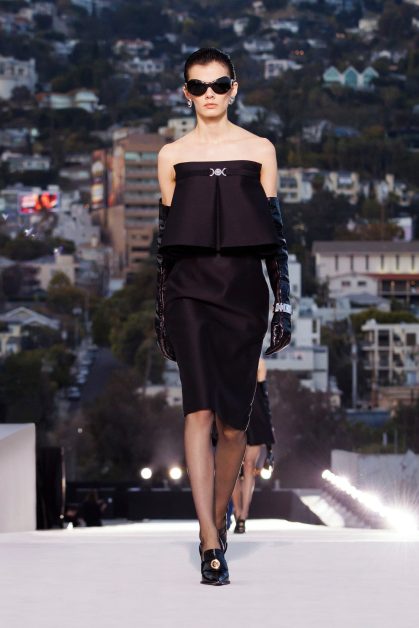 Fashion straddles a similar line between fantasy and reality, moving between our actual bodies and our vivid imaginations. And because she's an "una specie di genia" or "kind of a genius" in Italian, Donatella Versace has managed to design clothing that appeals to every girl, everywhere, all at once…even the ones who only exist in our heads.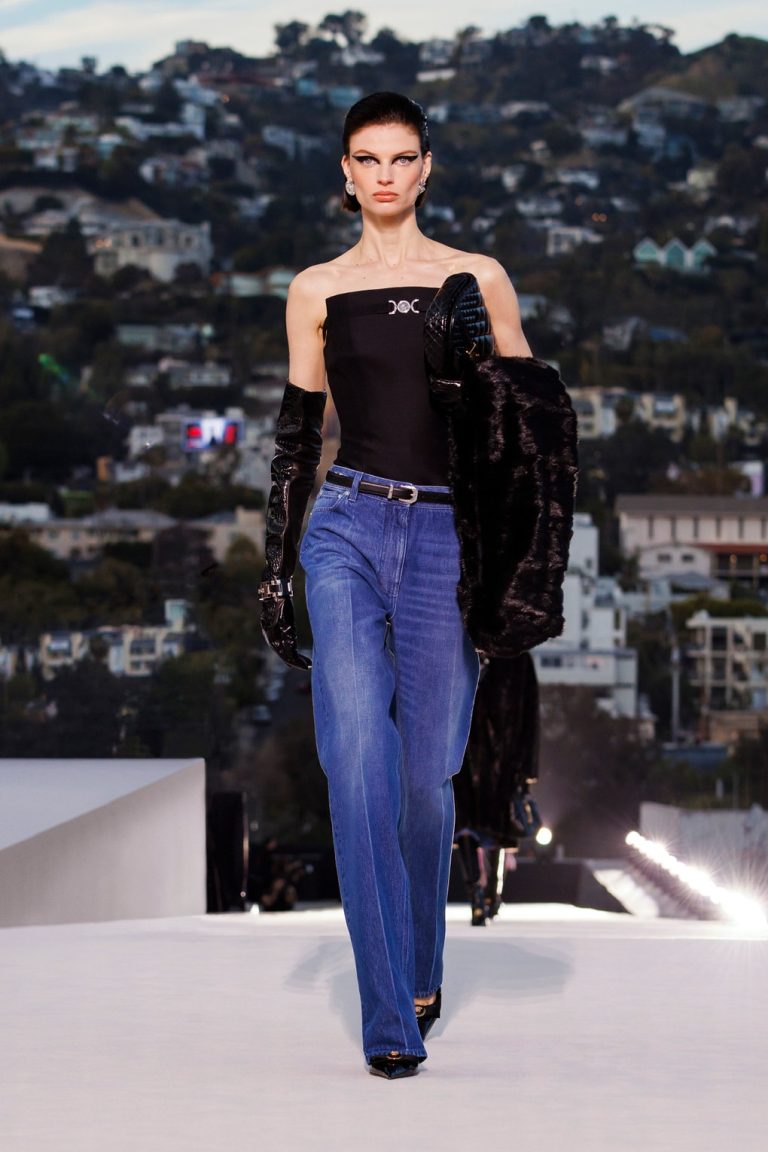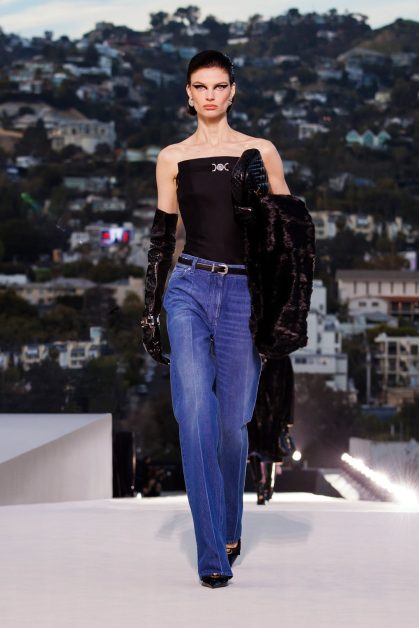 Gigi Hadid's opening look, a black power suit and peplum with slashed pockets, was a standout. It straddled the line between CEO and celebrity, so much so that it became a living meme for "get you a girl who can do both" when it caught Paris Hilton's attention.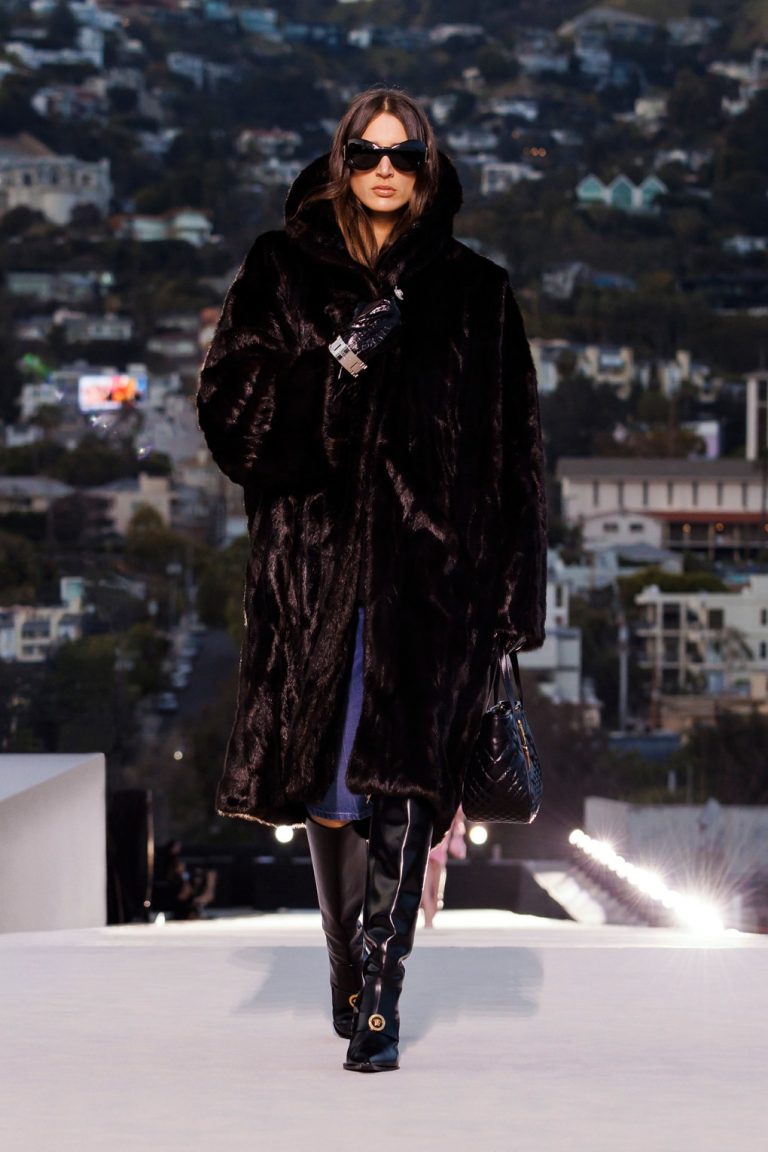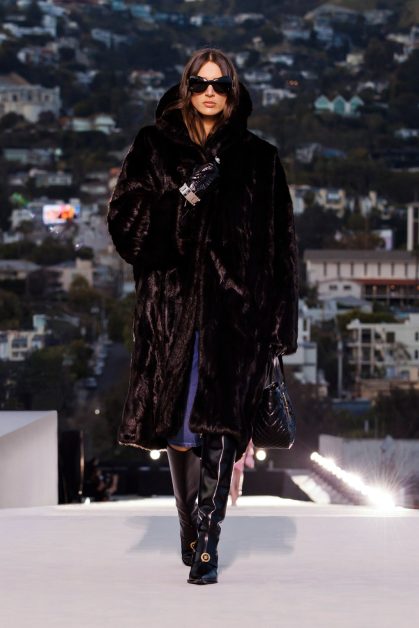 Croc-embossed miniskirts and tweed cocoon coats were firmly grounded in the reality of working women, while the micro mini poufs – including one on Kendall Jenner – were part of the "no pants, no problem" trend and likely a post-breakup revenge statement waiting to happen. In between were a plethora of options, both practical and dreamy – leather trenches, 3-D floral fabrics, goth-lite babydoll dresses – all of which adhered to Versace's assertively sexy party line, which essentially suggests that if you're wearing a Versace, you'd better be ready to party.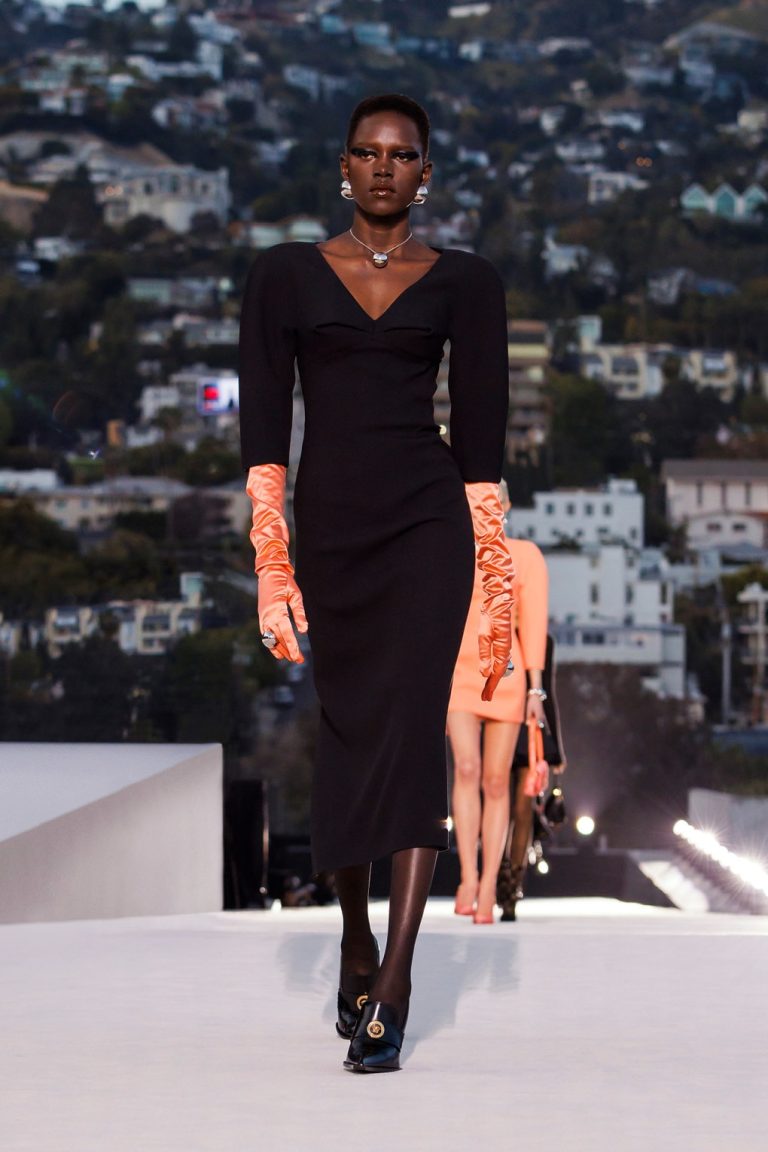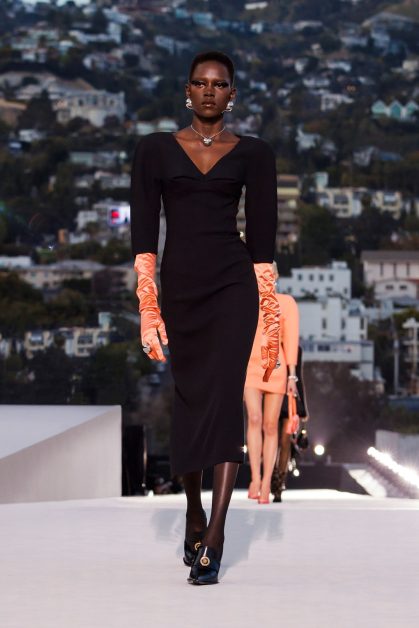 Similar to the California Dream, the Versace show concluded in a fantastical moment and then a return to reality. The Los Angeles skyline was washed in a purple haze as Donatella Versace made her final walk down the runway, wearing the same dress previously modeled by Emily Ratajkowski. Prince's "Let's Go Crazy" thundered through the speakers, and Anne Hathaway belted out every word of the lyrics in a moment of karaoke glory that will be remembered for years to come. Waiters passed around champagne and miniature servings of avocado toast while Tan France snapped selfies with other attendees.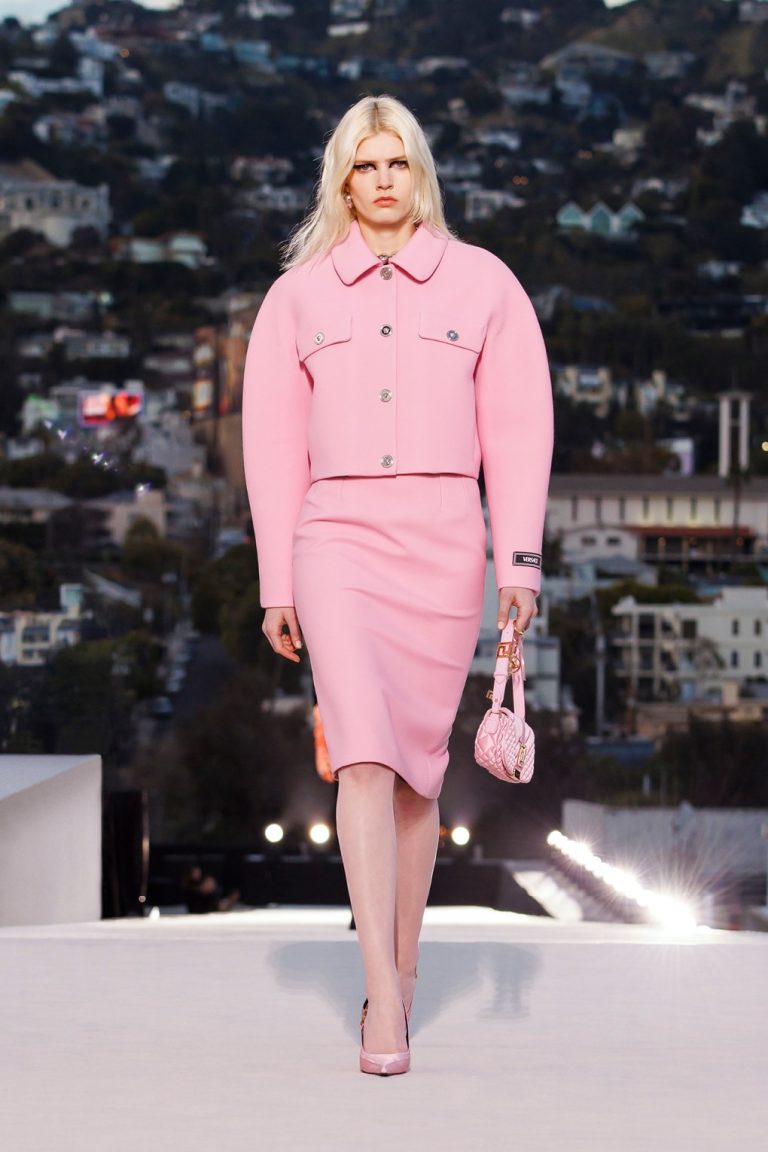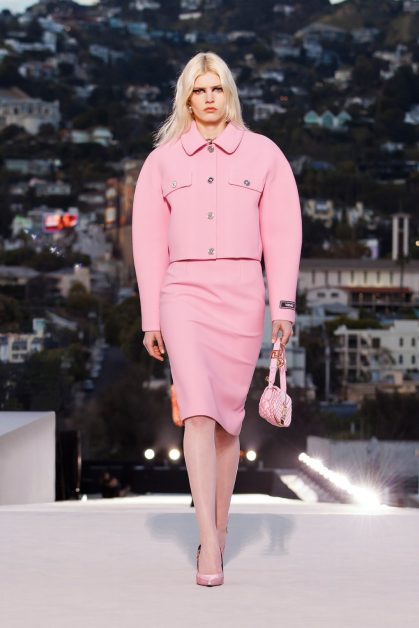 However, the star-studded crowd soon realized that they were located on top of a parking garage during rush hour, and within seconds, transformed into impressively practical individuals. Demi Moore took the lead as they made their way towards the elevators, while Pamela Anderson expertly navigated the steep staircase in her pencil-thin stilettos with ease, jokingly stating, "I've been doing this a while!" Miley Cyrus and stylist Patti Wilson took refuge behind a valet station until their car arrived, and even in the harsh fluorescent lighting, Cyrus' two-tone gown looked just as stunning, a testament to Signora Versace's ability to make glamour come to life amidst the everyday grime.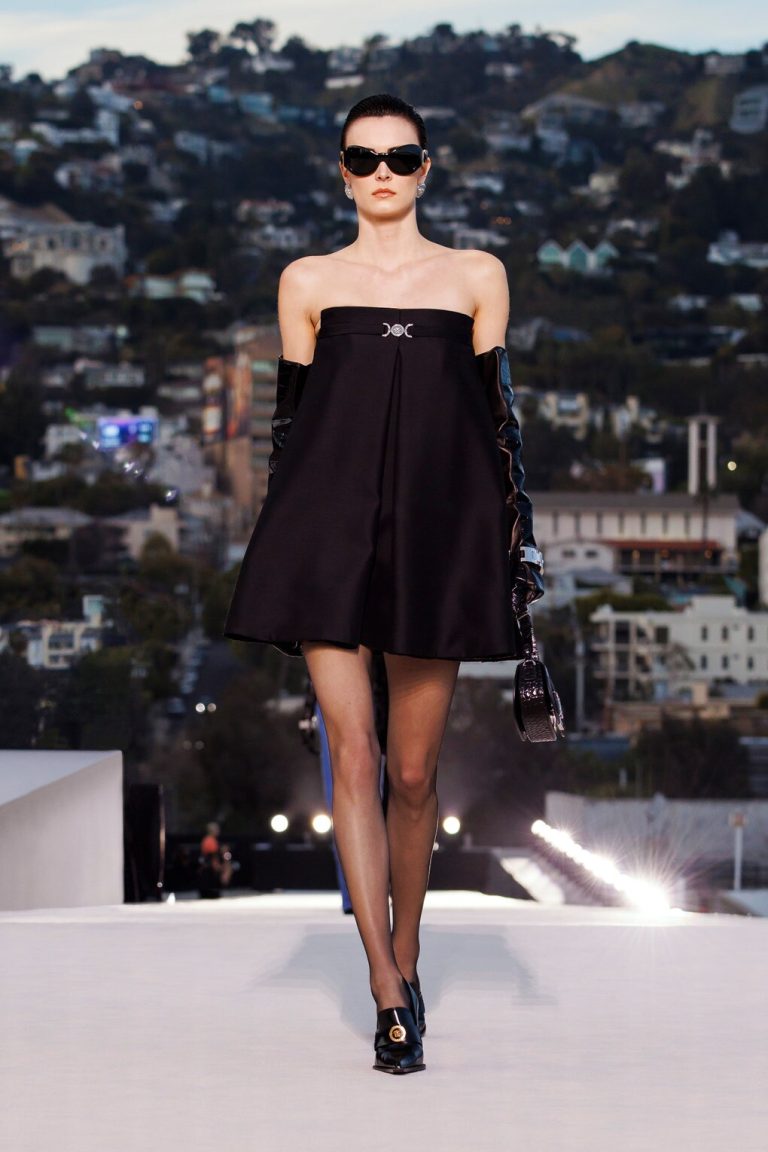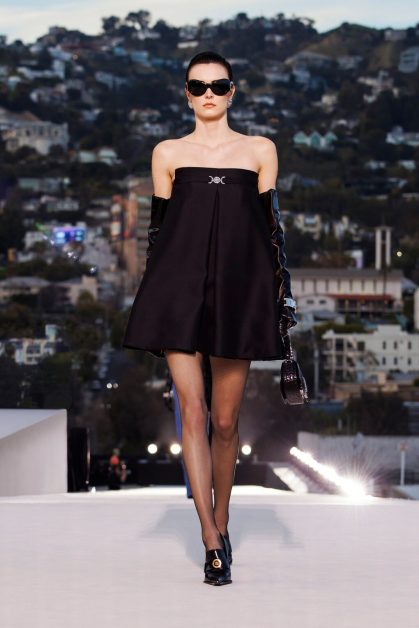 There is one more noteworthy detail: the Versace show coincided with Barbie's birthday, and the event took place just a few miles from her hometown of Malibu. Although there was no official homage, the presence of eight bright pink ensembles on the runway and a series of satin pink bags and shoes served as definitive evidence that Barbiecore has arrived and is here to stay until at least July, which is when the film is set to release. Coincidentally or not, that is also when these clothes will become available to the public.