I'm a woman of simplicity. When I come across new photos of Rihanna during her pregnancy, everything else takes a backseat as I pause to admire her. Currently expecting her second child, the singer and beauty mogul has always been a trailblazer when it comes to maternity fashion. However, this time around, her outfit choices overwhelmingly feature one key ingredient: the tiny top.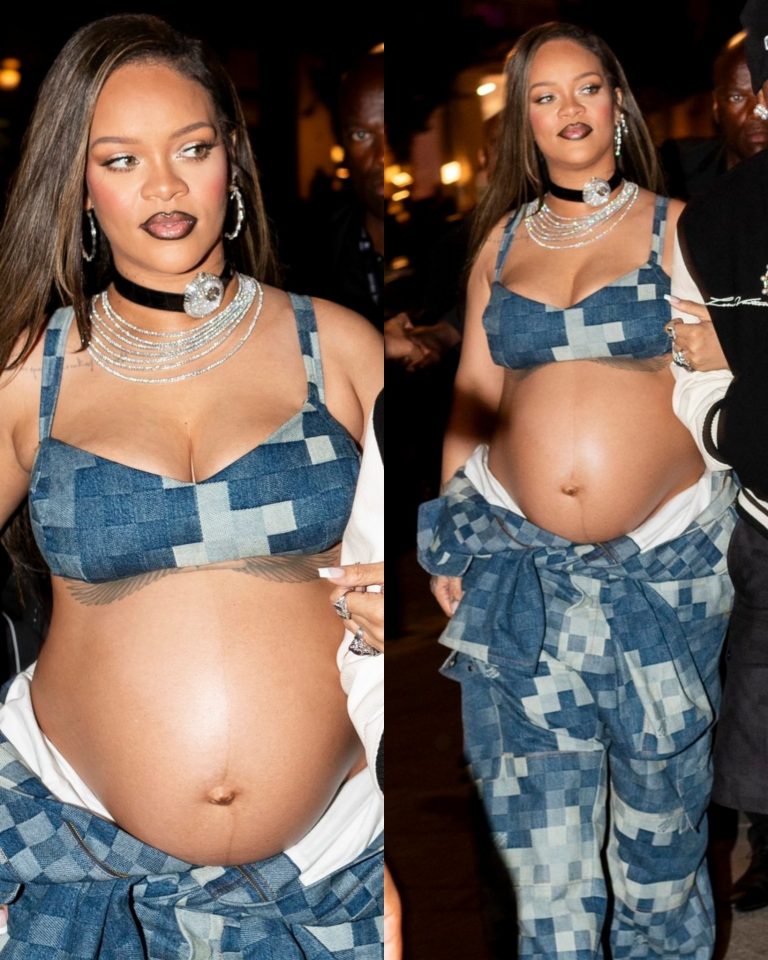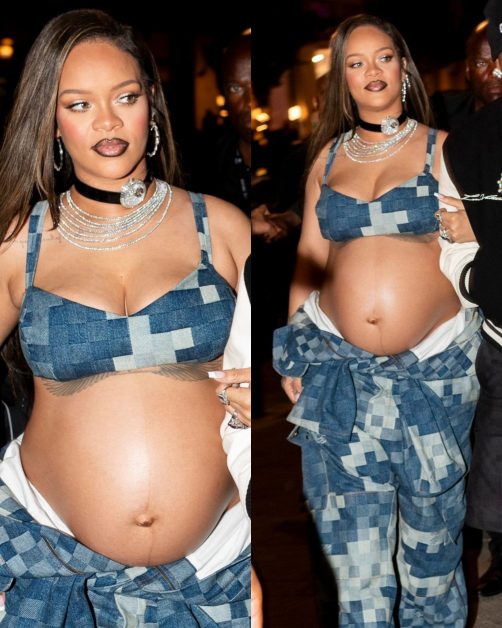 During the Louis Vuitton Menswear Spring 2024 show on June 20, Rihanna made a grand entrance in a striking denim bra-and-pant ensemble adorned with pixelated camouflage. With '90s-inspired makeup, layered necklaces, and her baby bump proudly on display, this viral look perfectly showcases Rihanna's style prowess during her pregnancy.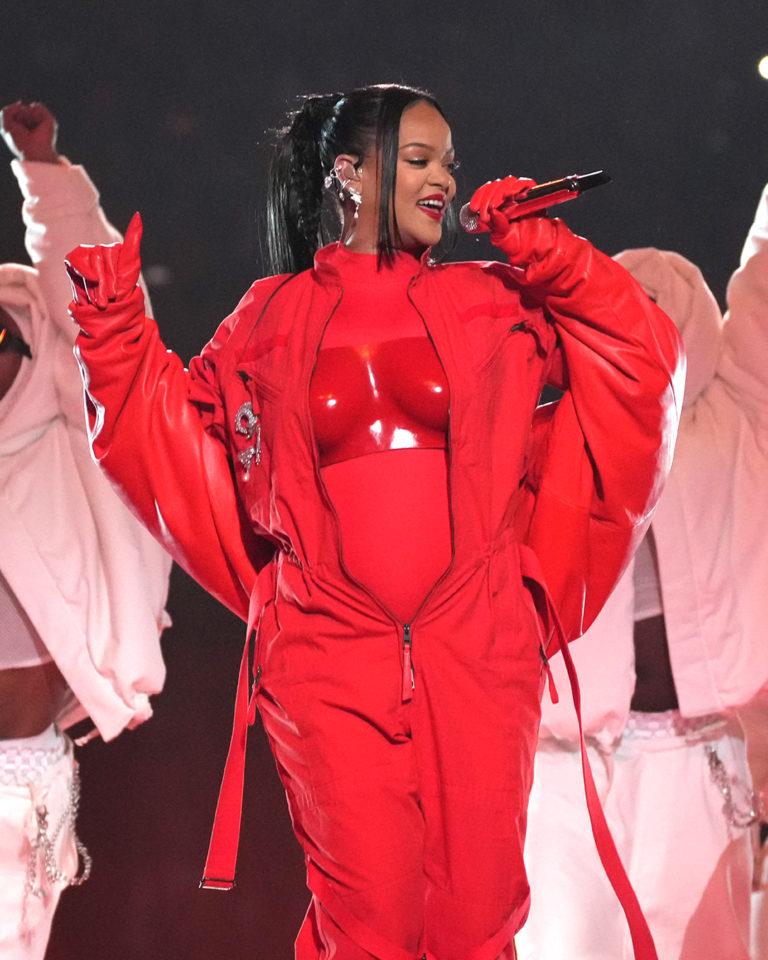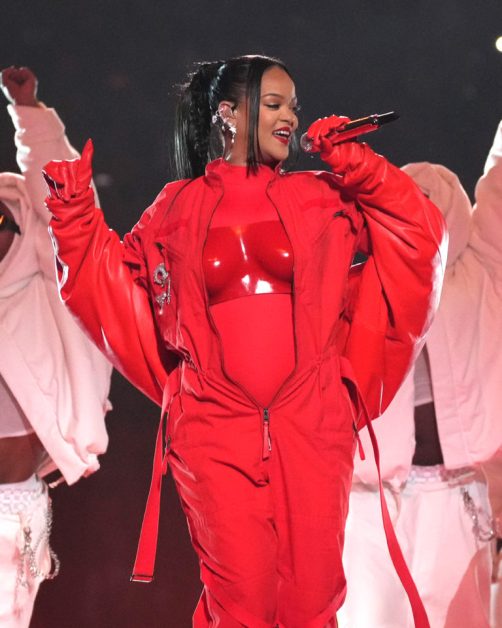 The Louis Vuitton Menswear Spring 2024 campaign was then unveiled on June 26 and starred Rihanna in yet another cropped matching costume. In case you missed it, during her first pregnancy in 2022, she made headlines for challenging the norms of maternity fashion with mini dresses, slinky separates, and sheer chemises. Now, a year later and with another baby on the way, Rihanna's current style continues to defy conventions of pregnancy dressing. And her newfound unofficial uniform, consisting of fun-size tops, is a testament to that.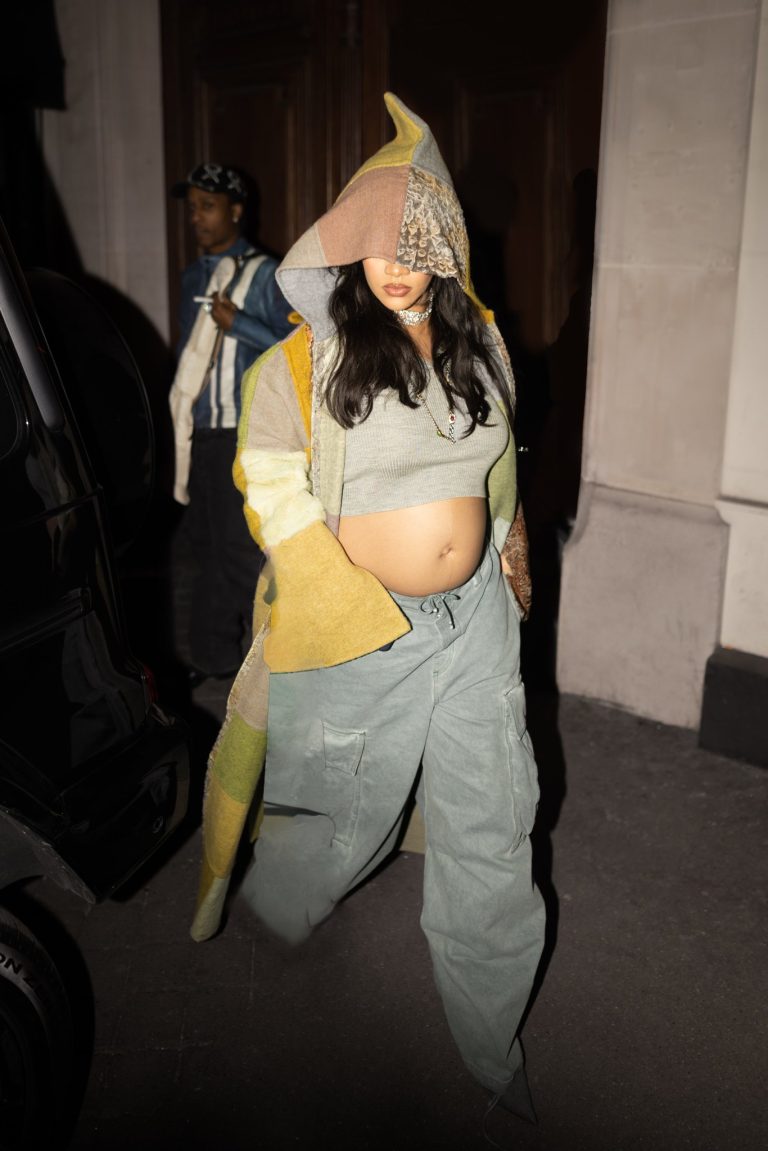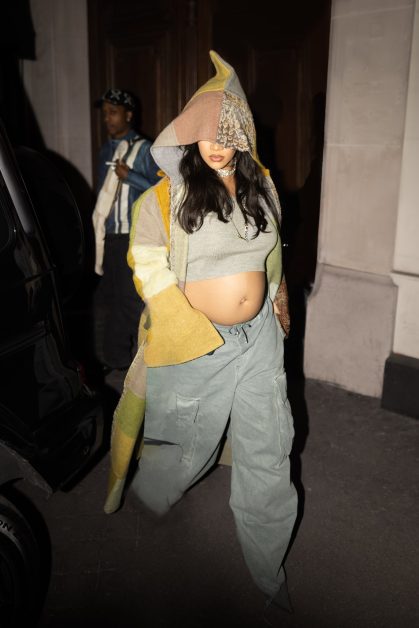 It all began with her second pregnancy announcement. While performing at the 2023 Super Bowl Halftime Show, Rihanna strategically used her costume to share the news of her impending arrival. Wearing a blood-red breastplate by Loewe that doubled as a strapless bra, she layered it over a vibrant skintight catsuit that accentuated her baby bump. This sculptural brassiere, revealing and concealing her belly in equal measure, ignited a frenzy on the internet. It was a non-verbal declaration that Rihanna's style in the coming months would once again captivate our attention.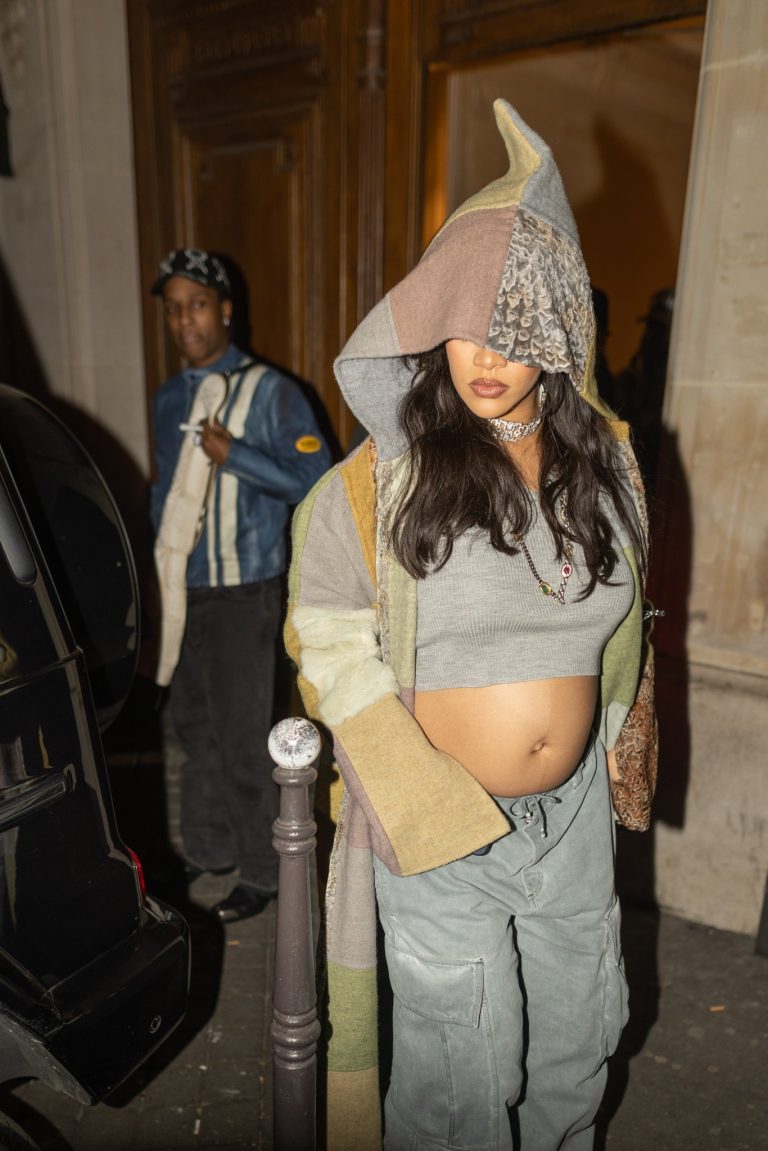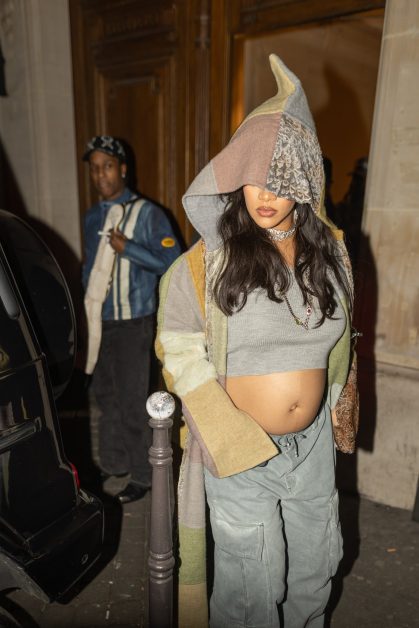 Rihanna's second pregnancy fashion has been a parade of crop tops, bralettes, and baby shirts that expose the belly. Whether she's running errands with her partner A$AP Rocky or making fashionable late entrances to high-profile industry events, she remains loyal to her go-to formula. And each time, her outfits seamlessly blend into her surroundings. During a dinner date in Paris last April, she paired an oversized hooded patchwork coat and baggy cargo pants with a cropped grey tank. A month earlier, during a more casual outing, she created her own crop top by tucking a preppy polo shirt and pairing it with relaxed low-slung jeans.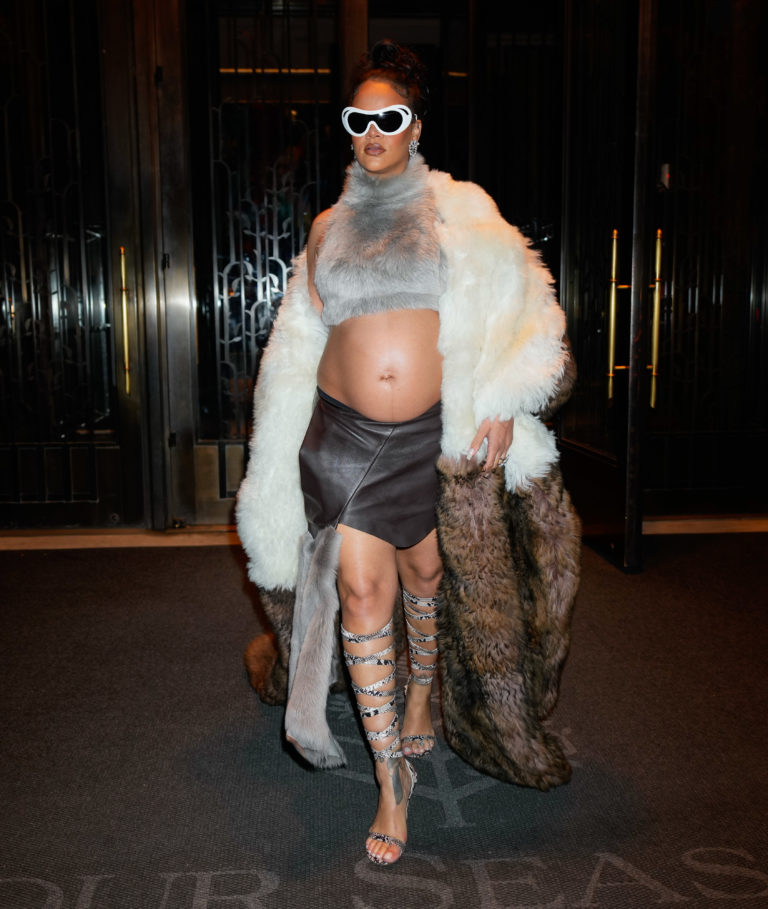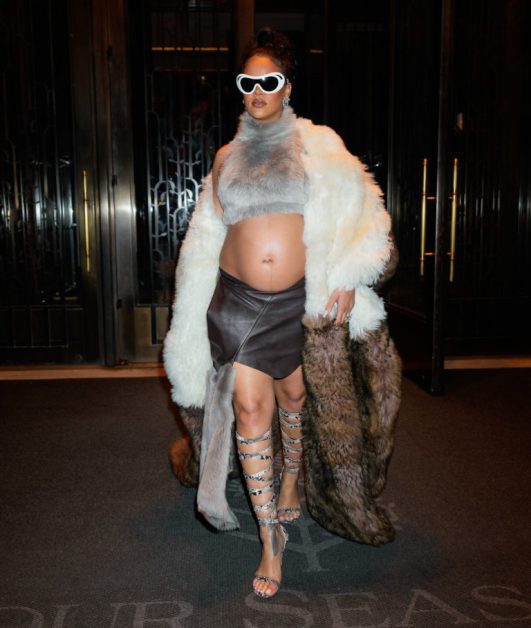 This style can also be elevated for more formal occasions. On an evening out in New York City in May, Rihanna added a playful touch to her skin-baring ensemble with a fuzzy halter top and a wrap skirt. That same week, she wore a leather trench coat fastened only at the top, revealing a black bralette and a micro-mini skirt for a decidedly sexier vibe.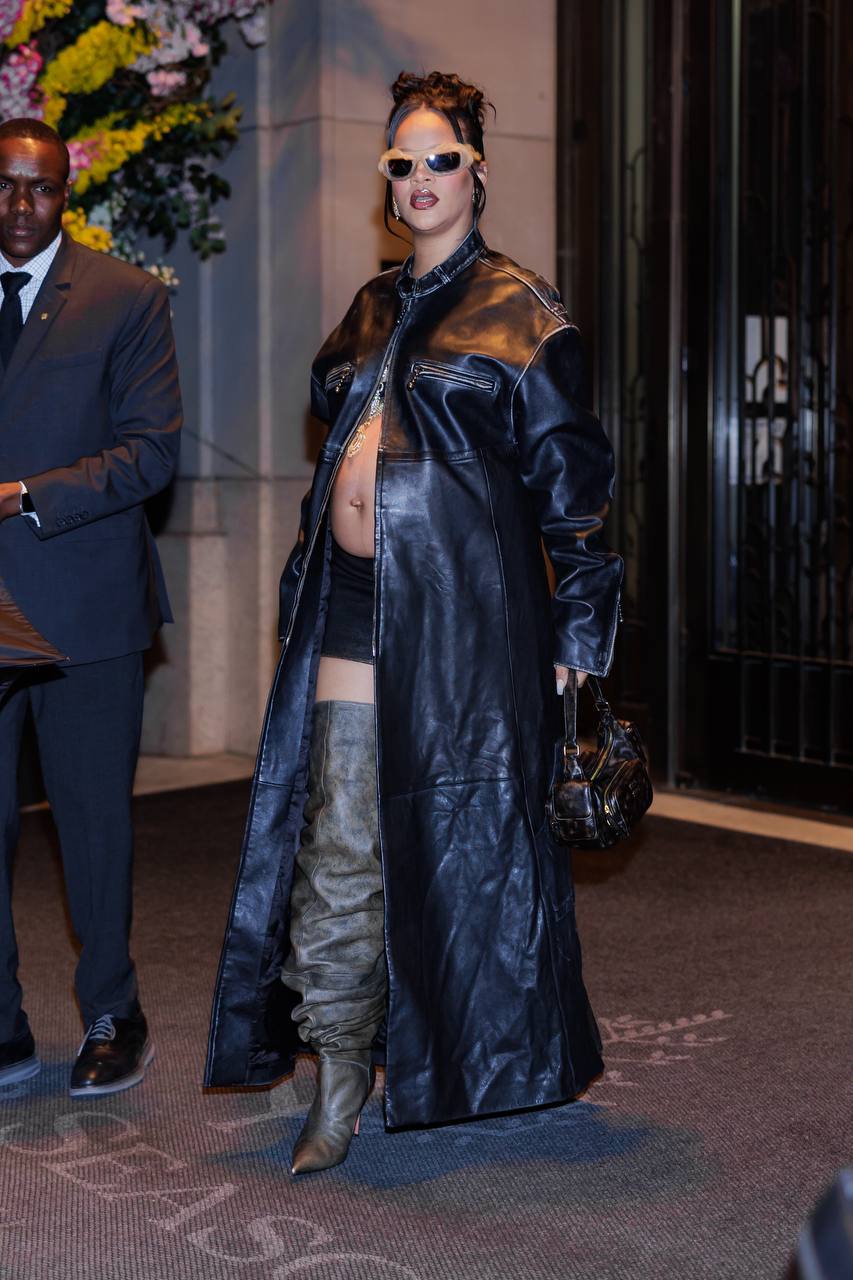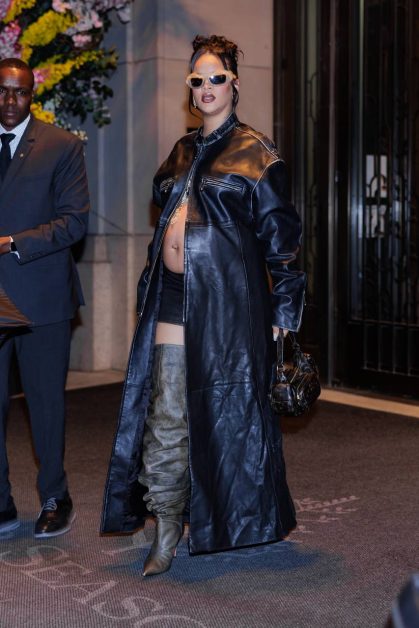 However, it's important to note that the tiny top isn't Rihanna's sole wardrobe choice. Her extravagantly embellished gown at the 2023 Met Gala played with traditional bridal silhouettes, and pictures of her street style in April showed her wearing a longer tube top. Nevertheless, it's worth celebrating the brilliance of her frequently used outfit recipe, ready to be reimagined at any moment. It allows her baby bump to breathe, simplifies the shopping experience, and provides ample opportunities for belly accessories. There's undeniable power in having a tried-and-true outfit formula, whether you're pregnant or not. And if there's one thing RiRi has taught us, it's that sticking within certain sartorial boundaries opens the door to creative experimentation.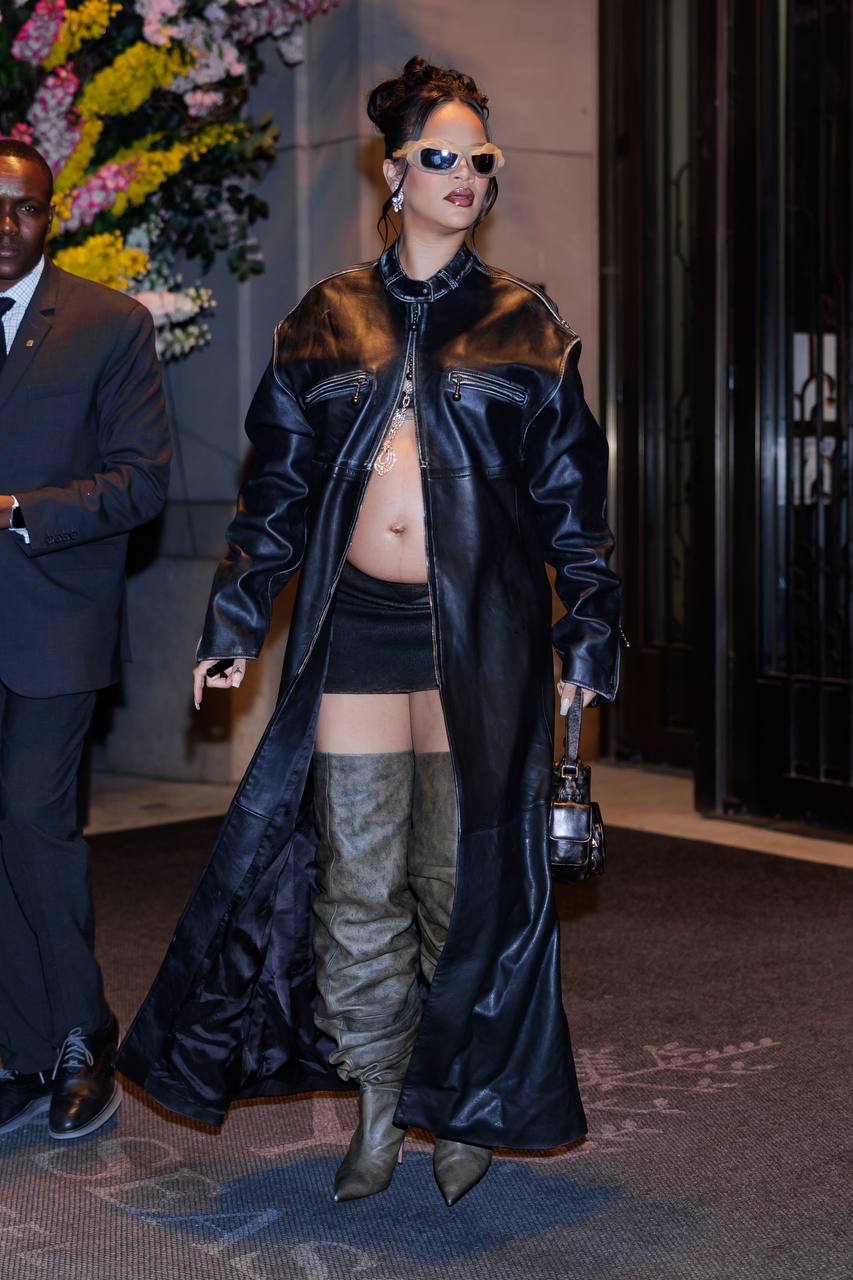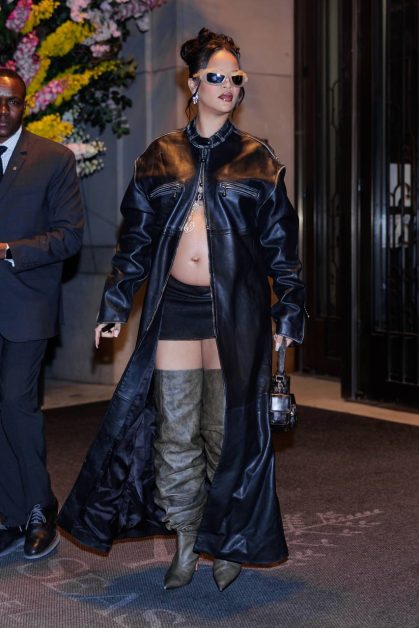 A prime example of this was seen at the 2023 Oscars, where Rihanna showcased three different looks that all revolved around her crop-top sensibilities. On the red carpet, she wore an Alaïa bra layered over a sheer bodysuit. She wore a mesh babydoll lingerie outfit with a bejewelled bra coming out during her performance. Backstage, she was photographed wearing a mint green Bottega Veneta belly shirt resembling a sash. These styles were distinct from one another, yet all accentuated her maternal figure in similar ways. This highlights the beauty of opting for unconventional shirt choices.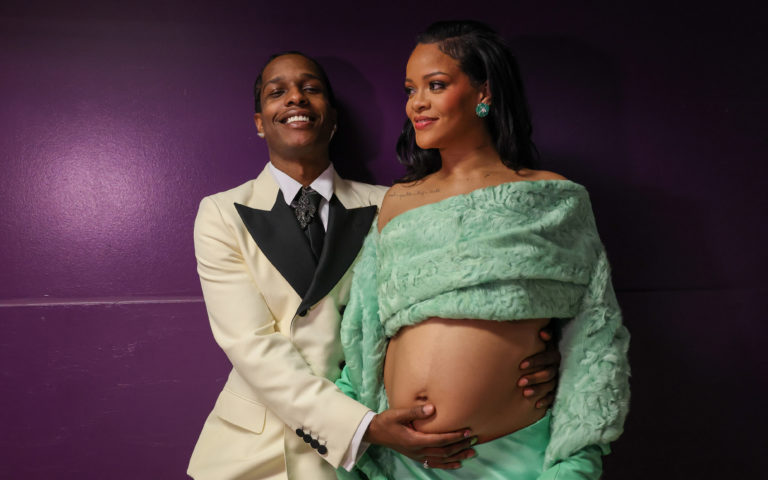 With every red carpet appearance, billboard homage, and street-style outing, Rihanna's crop-top-heavy ensembles consistently showcase her belly while challenging the notion that such styles are reserved for flat stomachs. Just as Steve Jobs had his turtlenecks and Karl Lagerfeld had his white ponytail and exaggerated collars, pregnant Rihanna has her crop tops. Once again, I find myself taking notes from her fashion choices.