Adopt the attractive white color in your autumnal looks, and of course will choose the designs with the cuts for the shape of your body, and coordinate them in a sophisticated and elegant manner, especially with the ease of falling into error when coordinating the white color.
That is why today I coordinated 3 elegant autumn looks in white, with touches of simplicity without dispensing with the youthful or modern character, to inspire from them what suits the type of your occasions and the shape of your body.
Youthful style in white in a comfortable style with modern touches!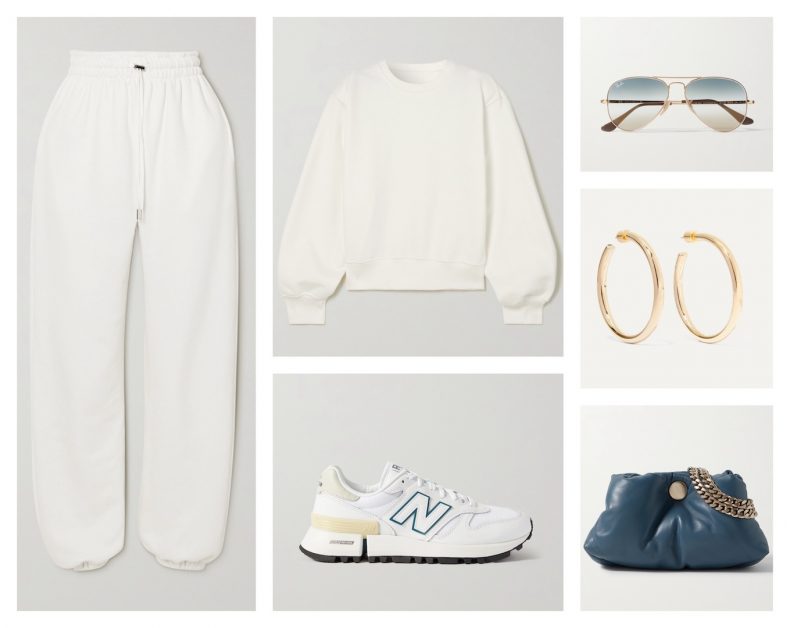 A practical look in an attractive and fashionable casual style in white, in a cotton sweater top and pants in a sporty-legged sporty leg, designed by FRANKIE SHOP, and I chose with the look white sneakers also decorated with light touches in blue and beige from NEW BALANCE, with a luxurious leather bag with a distinctive cut designed by FRANKIE SHOP. PROENZA SCHOULER, in petroleum blue with prominent gold chains, complemented the style with youthful blue-lensed sunglasses from RAY-BAN, and gold hoop earrings from JENNIFER FISHER.
Sophistication and elegance of white with Bordeaux in an attractive and simple style!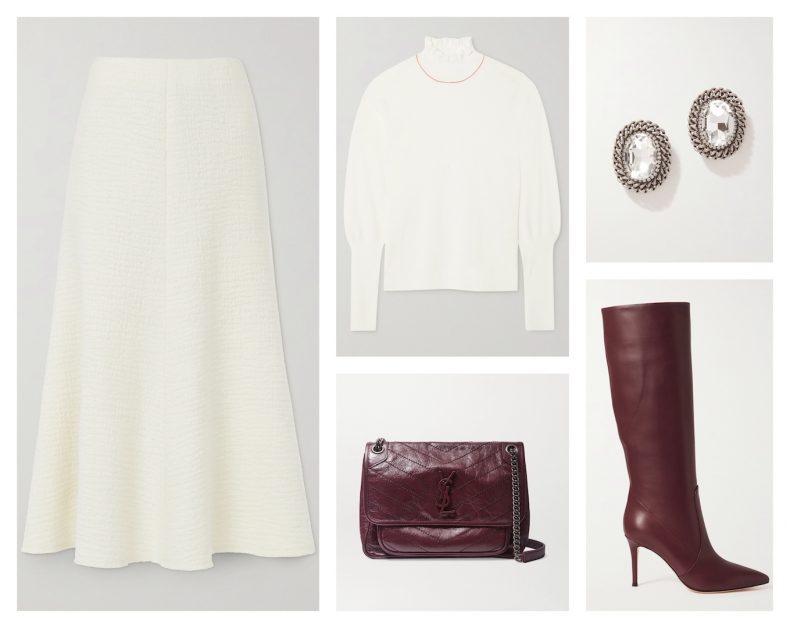 In this look, she adopted the autumnal style in white in a sophisticated and attractive style, and chose a soft wool top with a feminine cut with a Victorian dome and slightly puffed sleeves with a lively touch of the thin red line around the dome, with a long and elegant skirt with a simple A-Line story, both from CHLOÉ fashion house. She chose the color of Bordeaux to give a rich touch to white, with luxurious leather boots with pointed toe, high heels and stiletto heels from GIANVITO ROSSI, and a medium-sized leather bag in Bordeaux color also from SAINT LAURENT, and she completed the look with distinctive silver-tone metal orbit earrings from ALESSIA with a large stone and sparkling RICH.
White dress upscale look with youthful jewelry!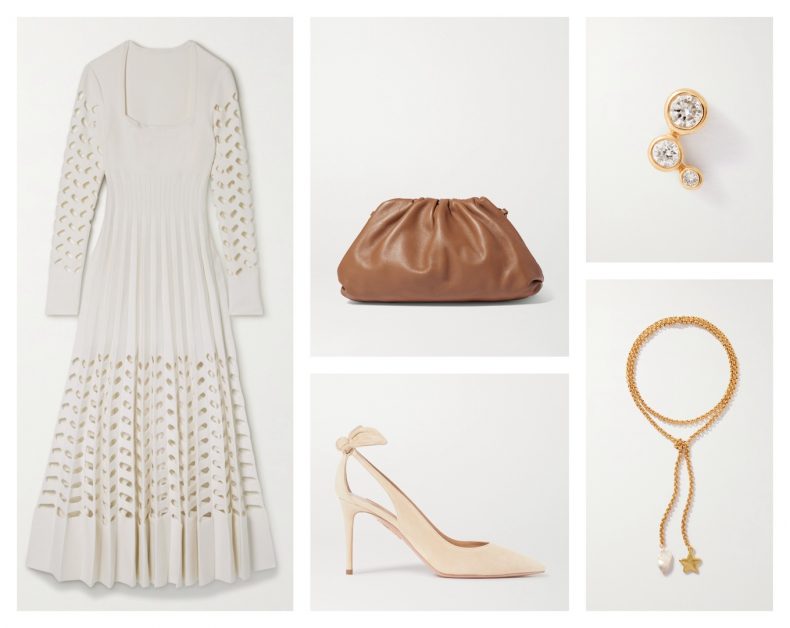 Chic Ivory White Artistic Pleated Midi Dress with Slash Cutouts at the bottom, layered with AQUAZZURA Soft Ribbon Soft-Tie Sandals, and BOTTEGA's Fashion Medium Brown Leather Clutch VENETA added a youthful movement to the look with a gold necklace adorned with a small star and a white stone from TIMELESS PEARLY, and soft gold earrings decorated with sparkling stones by MARIA BLACK.