The correct use of colors can achieve miracles in the house, the basic elements that play an important role in the feelings we feel between its corners, and then the direct impact on the psychological state of the people living in it.
One of the most healthy colors for our homes, green is considered the best for good health, according to color psychologists, for its ability to evoke feelings of renewal, balance, and calm, besides being the most relaxing color on the color wheel, giving the home a sense of calm and serenity and the ability to relieve stress and anxiety and create an atmosphere of psychological balance.
Green also symbolizes nature, growth, and health, which is why it is always a favorite for home interior design, whether as a statement pattern, as a bold block color, or as an accent, so, using it in home décor, is a tried and tested way to reduce anxiety and calm Healing the mind and body.
green home interior design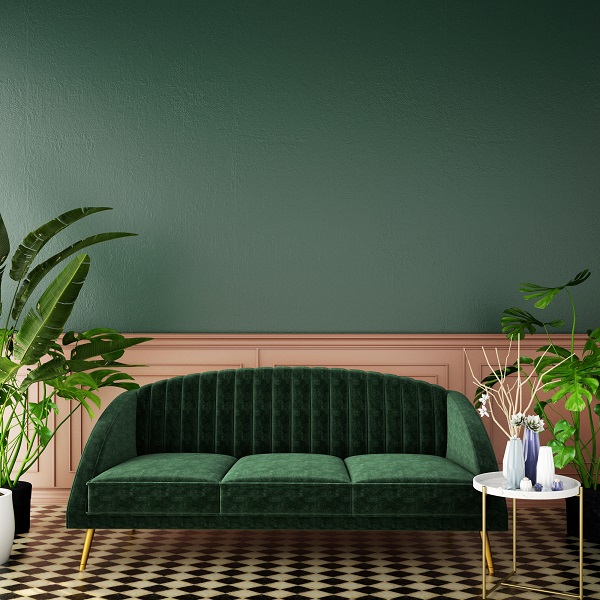 Since green is a calming and relaxing color, being the color that represents nature, and thus makes us feel happy and positive, it is recommended to choose shades from olive to emerald, passing through cart rose, sage, and sea foam, shades that bring calm to spaces, so They are ideal for living areas and bedrooms to enhance comfort and relaxation.
For example, choose a luxurious green velvet sofa for your living room as a focal point that increases the luxury of your space.
The shades of bluish-green are strong and very impressive shades, so soft tones such as terracotta white and chalky gray are inserted within it in the furniture and accessories, while maintaining the light-colored floor, to give balance and a sense of calm to the scheme of the house.
Greens with a yellow undertone, such as olive, can be teamed with gold or bronze, enhancing their warmth and making your home feel inviting.
green entrance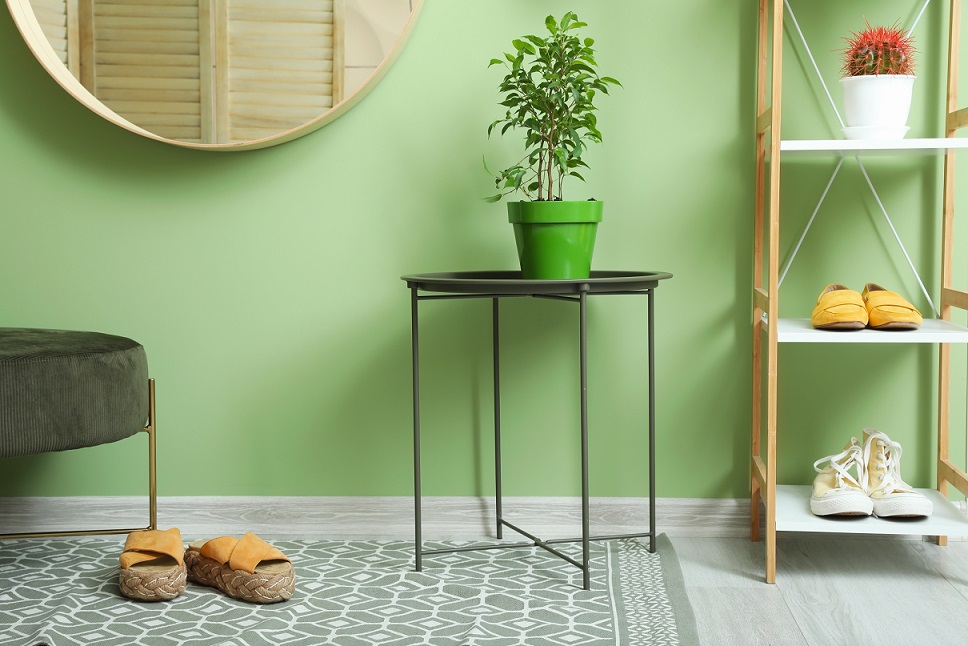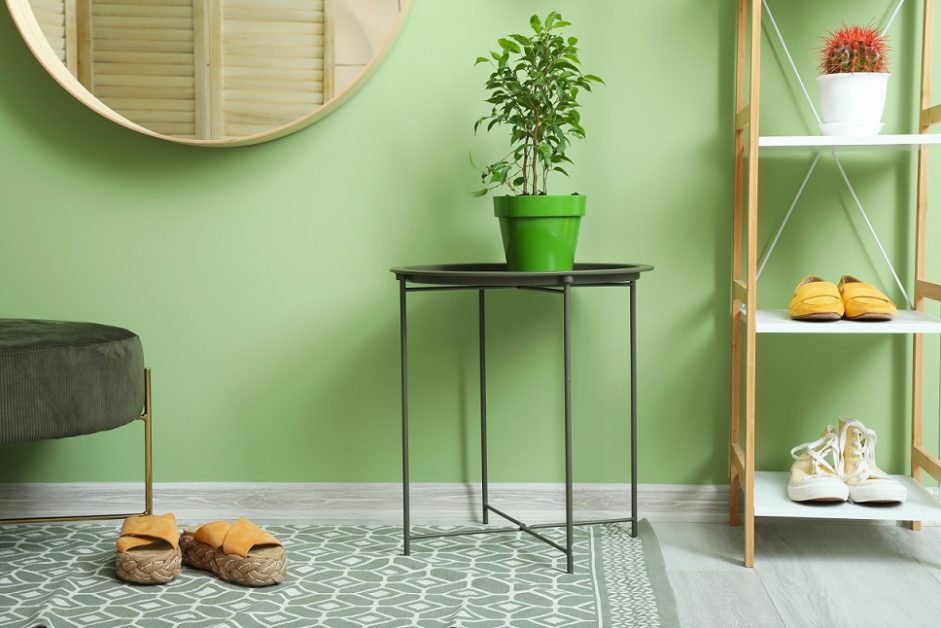 Light green is a great choice for the entrance to the house, especially the foyer that provides views of the garden, so it can be chosen for its walls from the best ideas, the color that matches almost all the colors and styles of furniture, which adds freshness and a distinctive personality that attracts everyone to the house and gives the rest of the house a wonderfully bright tone.
Color experts recommend pairing light green with shades of cream and white to keep the entryway bright.
Green kitchens are the latest color trends for 2022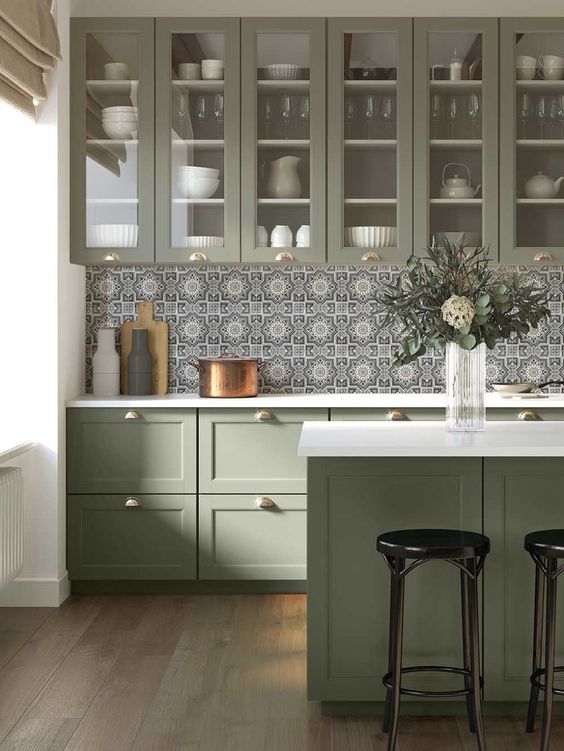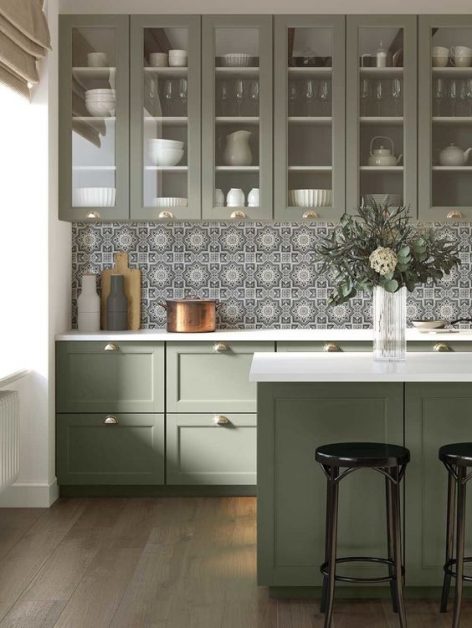 Green kitchens are one of the most coveted color trends this year, and they are perfect for those who want to reconnect with nature, hence the choice of kitchen cabinets in shades of green such as sage green, for a more intimate feel.
A green combination for an elegant bathroom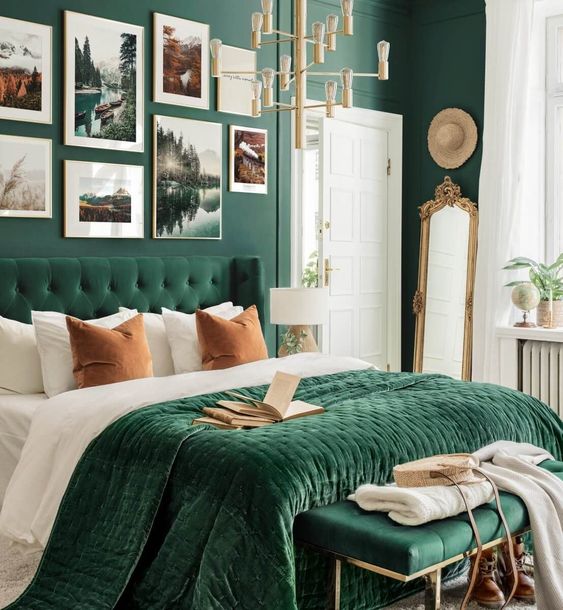 Green tones in the bathroom make a fresh impact, especially when paired with neutral shades like white or black.
And between tiles, wallpaper, bathroom sets, or wall paint, you can choose green to be the hero of your bathroom, by mixing its different shades with some of these elements, to get a space that resembles a green oasis.
A living room in bold green tones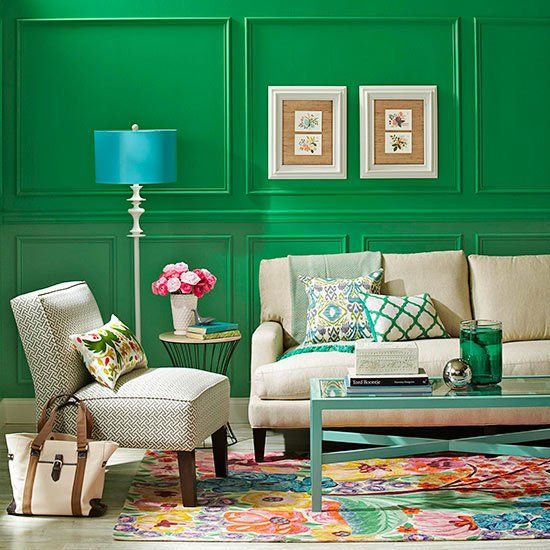 With its ability to feel calm, the color green works beautifully in any room of the house, especially the living room, a space that can be painted all the walls for example in a shade of kelly green, and paired with an elegantly patterned rug in bold shades of green, strong colors that make your home more fun and radiance.
For more simplicity, you can choose a soft olive green with a checkered pattern for the living room sofa or chairs, shades that fit perfectly with the neutral walls.
emerald green bedroom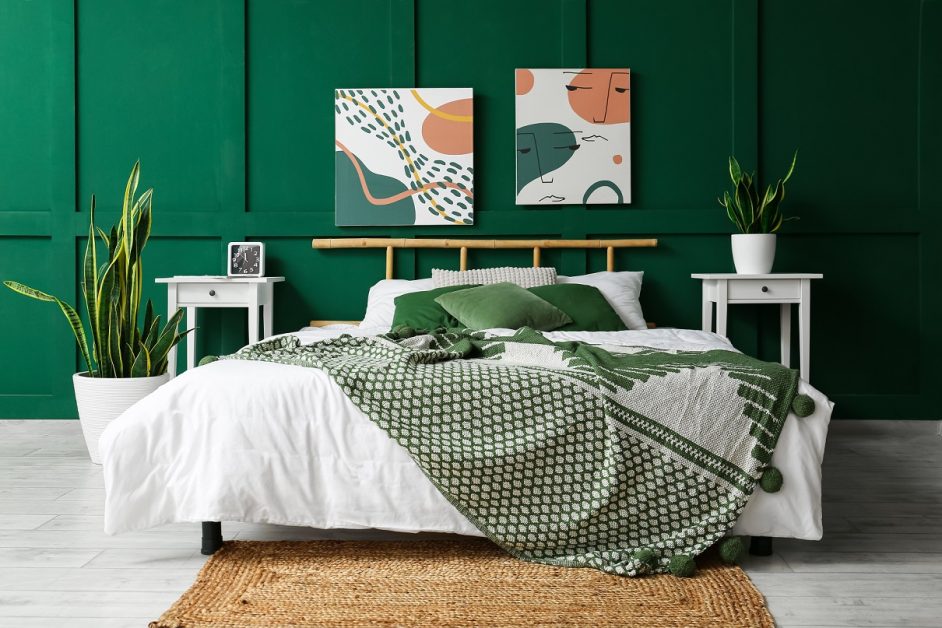 The bedroom is the most comfortable room in the house we should feel comfortable, and relaxed, so choosing the colors of its walls and furniture is very important, which can be achieved with the help of green, by choosing to paint the walls of your bedroom with a favorite shade of green such as emerald green "with the choice of shades "Neutral to the Rest of the Walls" and pair it with elegant wood patterned furniture in a light shade of green or soft neutrals like white.