Recently, wedding dresses with jumpsuit-style cuts have been trending, offering a unique twist on the classic white suit. These jumpsuits are elegant, intricately embroidered, and carefully crafted, featuring details like head coverings or draped shoulder accents. Some designs incorporate lace or wide gauze pants, almost camouflaging the fact that they are jumpsuits, but they are sophisticated and suitable for a modern and intimate wedding. One of the prominent designers who embraced this trend is Elie Saab, who introduced the embroidered jumpsuit with veils.
Elie Saab, the renowned Lebanese designer, created a jumpsuit made of embroidered organza with white roses, adorned with a head covering for added mystery. The jumpsuit features wide open legs with thin straps, and the draped shawl covers the head, reaching down to almost touch the ground.
#1: Cut-Out Jumpsuits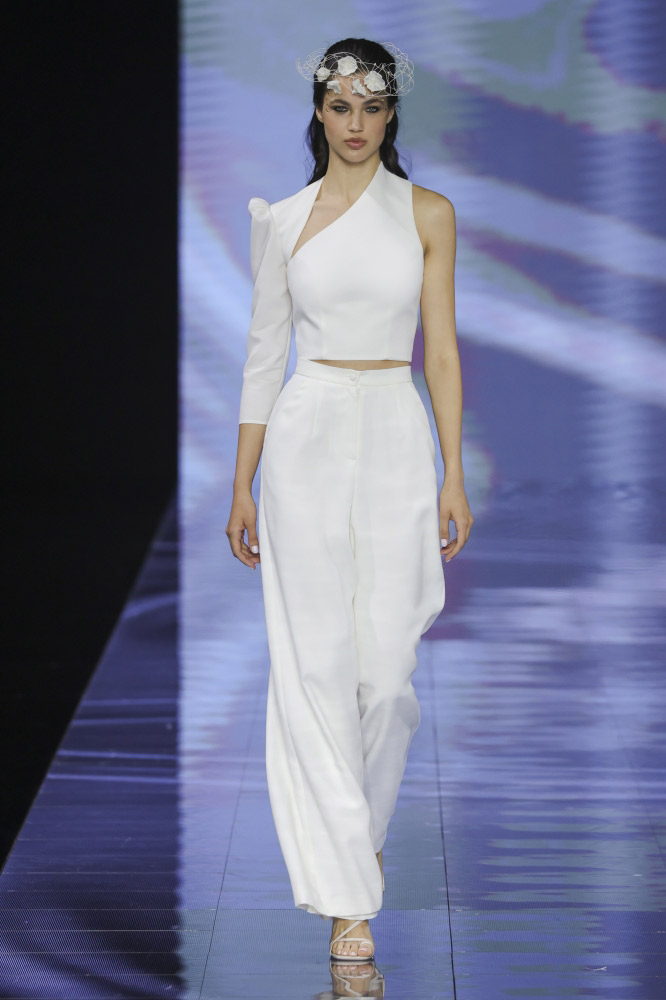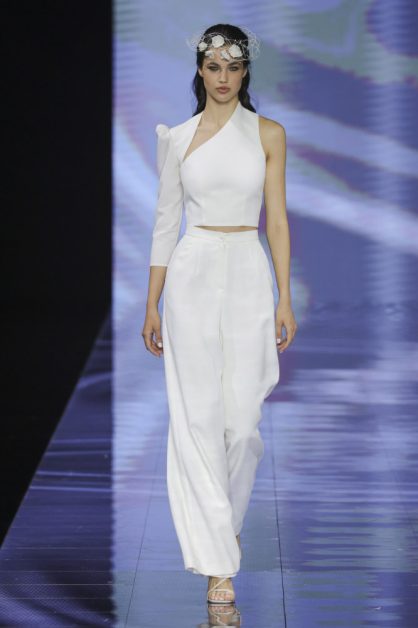 Cymbeline also presented a jumpsuit made of white silk satin, embellished with asymmetrical cut-outs at the sleeves and a keyhole opening at the top. The design cascades loosely down to the bottom, and the brand paired it with an accessory made of mesh embroidered with flowers for the head.
#2: Thread-Embroidered Jumpsuits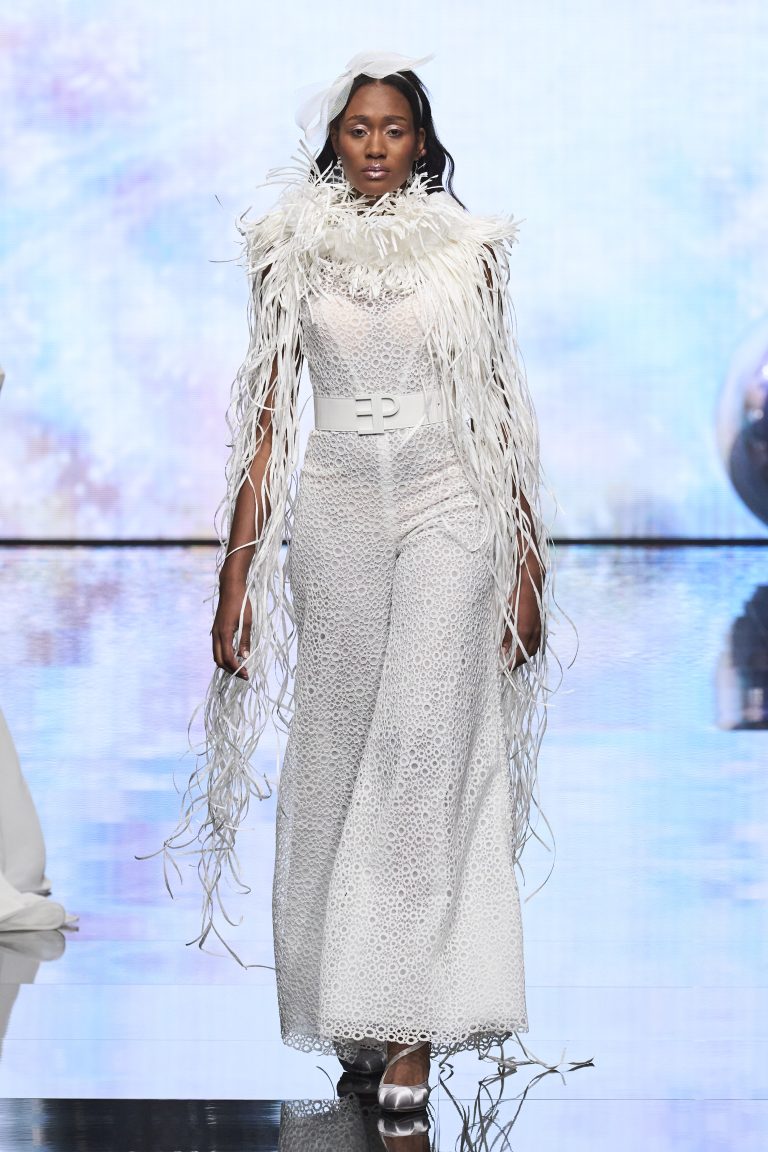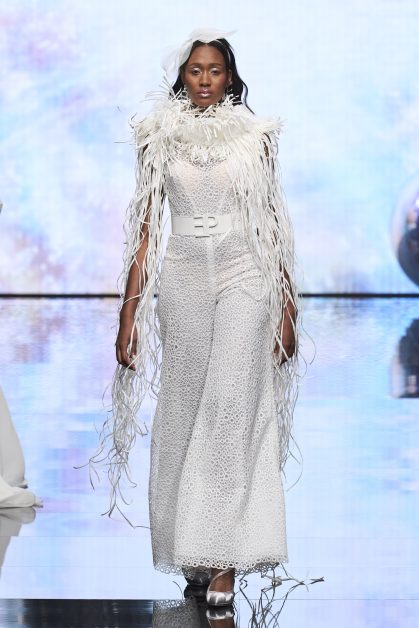 Another designer introduced a jumpsuit adorned with three-dimensional thread-embroidered feathers. It features a high collar with thread embroidery in the shape of a rose around the neck. The wide pants are elegantly decorated with intricate feminine embroidery throughout, and the model paired it with shiny high-heeled satin shoes.
#3: Jumpsuits with Neck Tie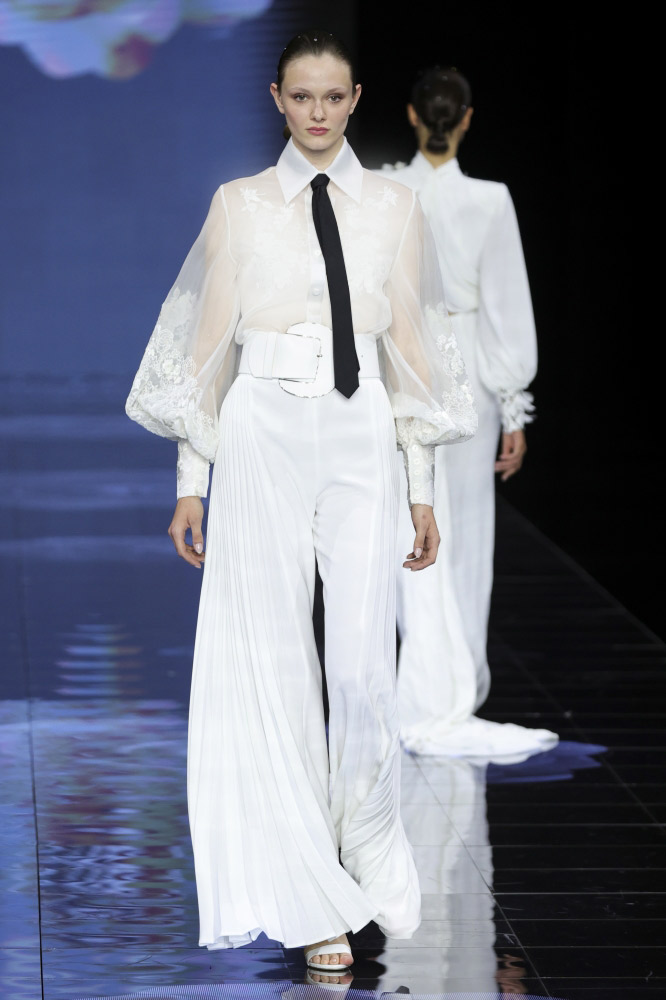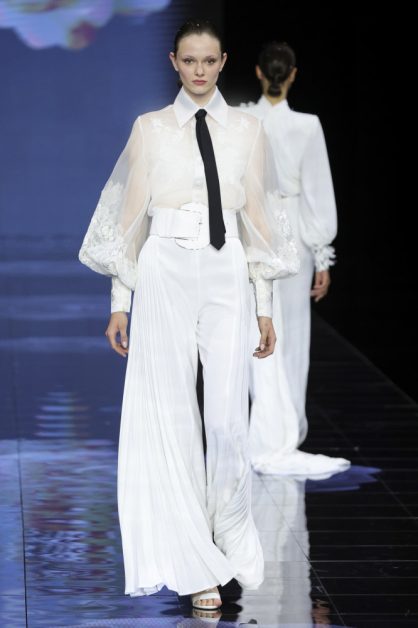 Designer Isabelle Sanchez styled a jumpsuit consisting of an organza shirt embroidered with white flowers and embellished with a black satin neck tie. The jumpsuit is coordinated with high-waisted pants and long legs that flow freely like a Jupon style. The ensemble is completed with open white high-heeled sandals.