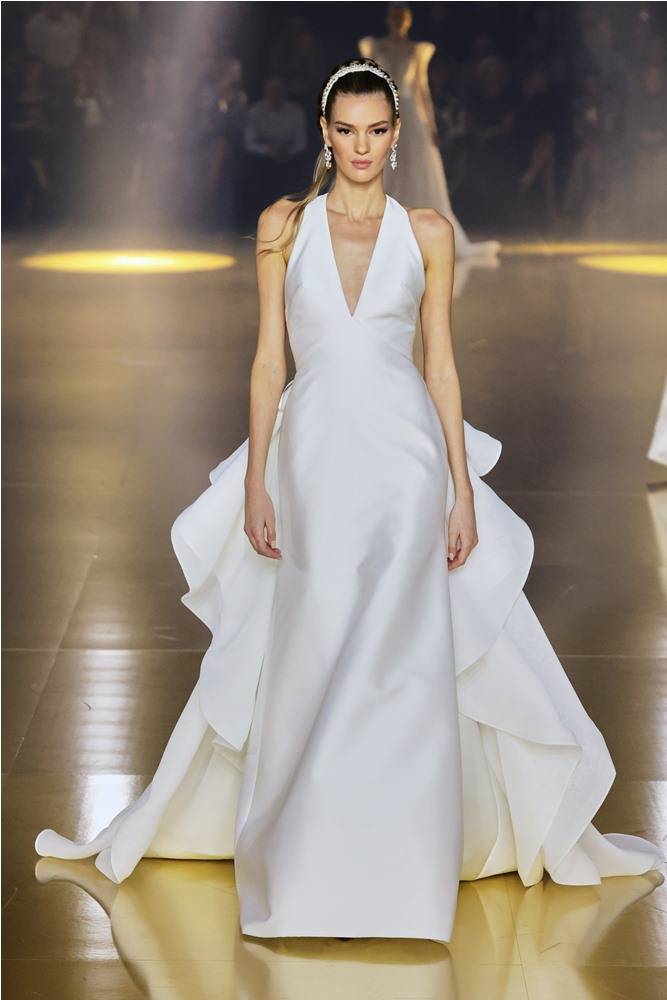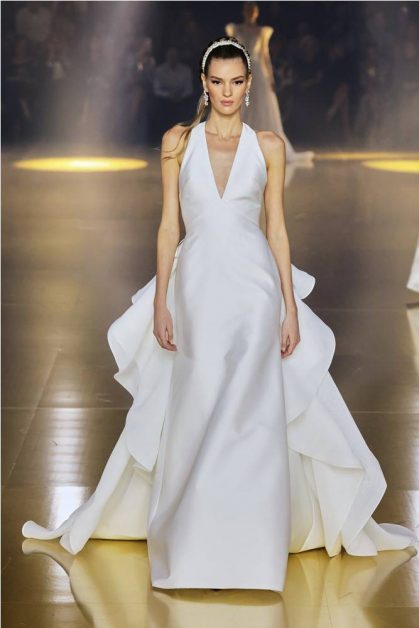 The wedding dresses with a V-neck from the Spring-Summer 2023 shows are distinctive and give you a soft look. Every season, new trends appear on the catwalks, and we have noticed a great variety of them for every bride looking for a royal look.
Romantic look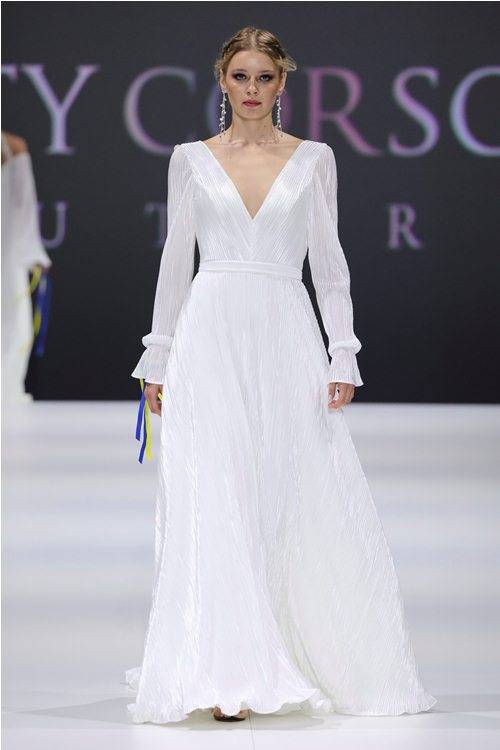 A variety of dresses that were distinguished by a V-neckline, so you can choose what suits you, whether with a soft satin fabric that gives you a romantic look or with thin sleeves and a narrow design that will highlight your slender body.
If you dislike simple dresses devoid of embroidery, you can choose a wedding dress with a V-neck from the Spring/Summer 2023 offerings, embroidered with flowers, with a wide or narrow skirt, and you can even choose it with the soft siren cut.
For the 2023 bride, fashion houses have presented various wedding dress designs and different models, among which we recommend this model from Katy Corso with a distinctive V-neck with a drop-down cut that gives you more length. It is also okay to buy a wedding dress with a vertical cut with long sleeves down to the floor and with a low V-neck as well.
With the mermaid cut, you can wear the dress of luxurious lace fabric with long sleeves, a collar, and lace fabric… To be a charming queen at your wedding, choose what suits your taste and shine during your big day.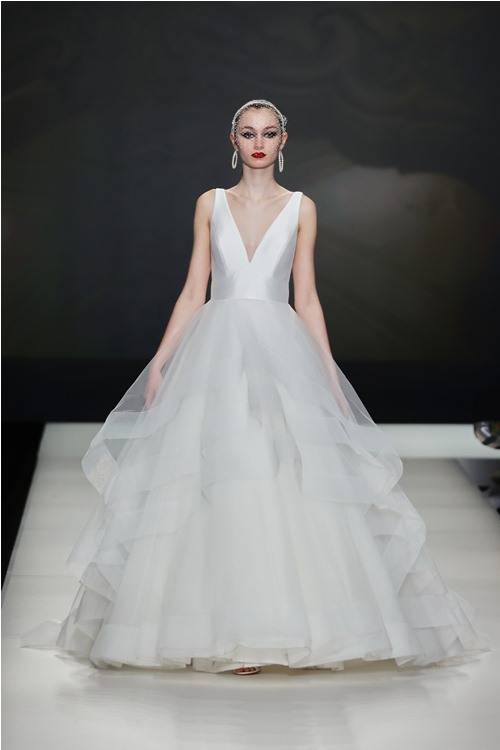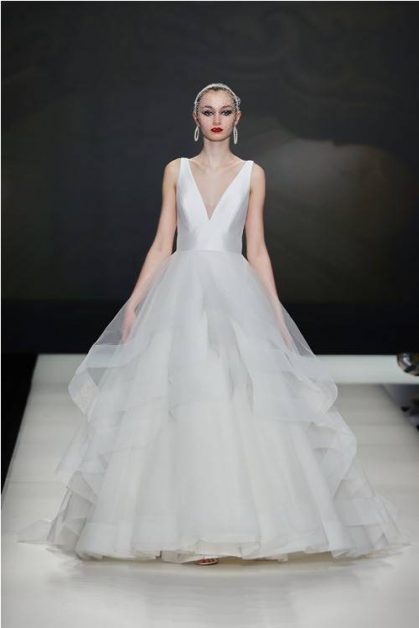 Thin and attractive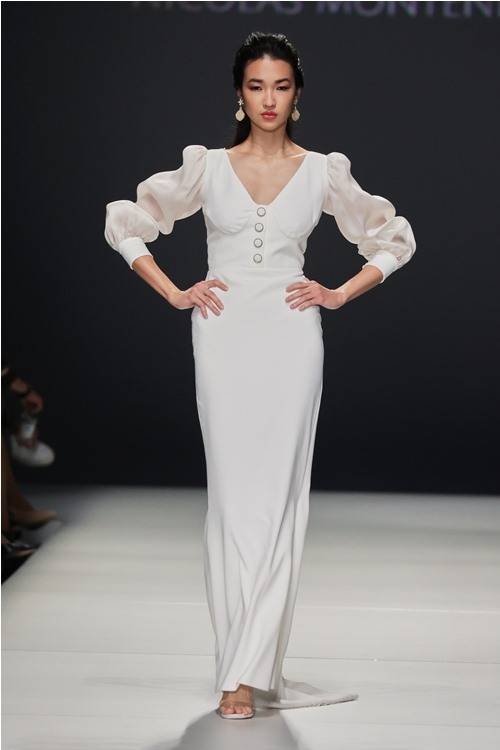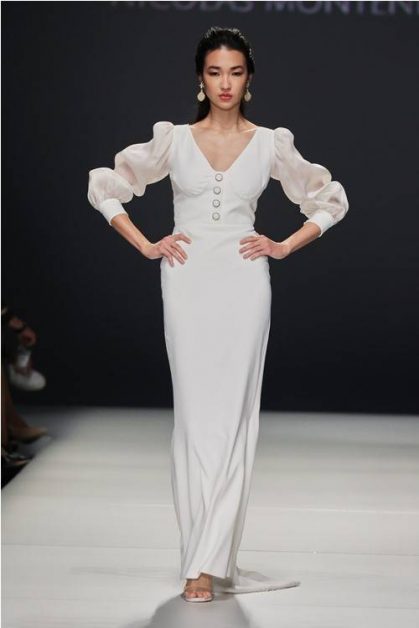 Wedding dresses with a V-neck from the Spring Summer 2023 shows are your best choice for this season because choosing the dress is one of the important things for girls who are about to get married, as they want to find the right fit for them with striking details on the level of fabric, embroidery or the story.. To find the perfect wedding dress, it is necessary to consider the shape of the body, such as the long neck that goes with V-neck dresses.
White wedding dresses in luxurious lace fabric in a straight cut from the house of Nicolas Montenegro with an unmatched flattering collar for a soft and attractive look… wear it during your wedding ceremony. A white wedding dress, made of luxurious silk, free of embroidery, came with a V-neckline with a flowing cut, soft, with long sleeves.
For every bride who loves luxurious dresses that make her a princess among her guests, if you are a fan of the luxurious style and are looking for a wedding dress for your wedding, remember these dresses with a V-neckline that are suitable for large wedding parties, and you have to coordinate a luxurious hairstyle, and do not forget the accessories that complement your look. It is okay to adopt wedding dresses with an extra fluffy skirt, for example, which can be separated from the dress to become a simple and soft design, and thus you look as if you sparkled with two designs on your wedding day.
You can adopt a high hairstyle with a wedding dress with a V-neck and wear neck accessories to maintain a coordinated look.