Bet on a trend, and you can be sure that Kendall Jenner has not only worn it but rocked it. Whether it's a sheer dress, a coastal cowgirl aesthetic, or an itty-bitty bikini, she's been there, done that. Her latest outfit of the day (OOTD) effortlessly blends two of the hottest trends seen on runways and in celebrity street style: going pantsless and carrying gargantuan bags.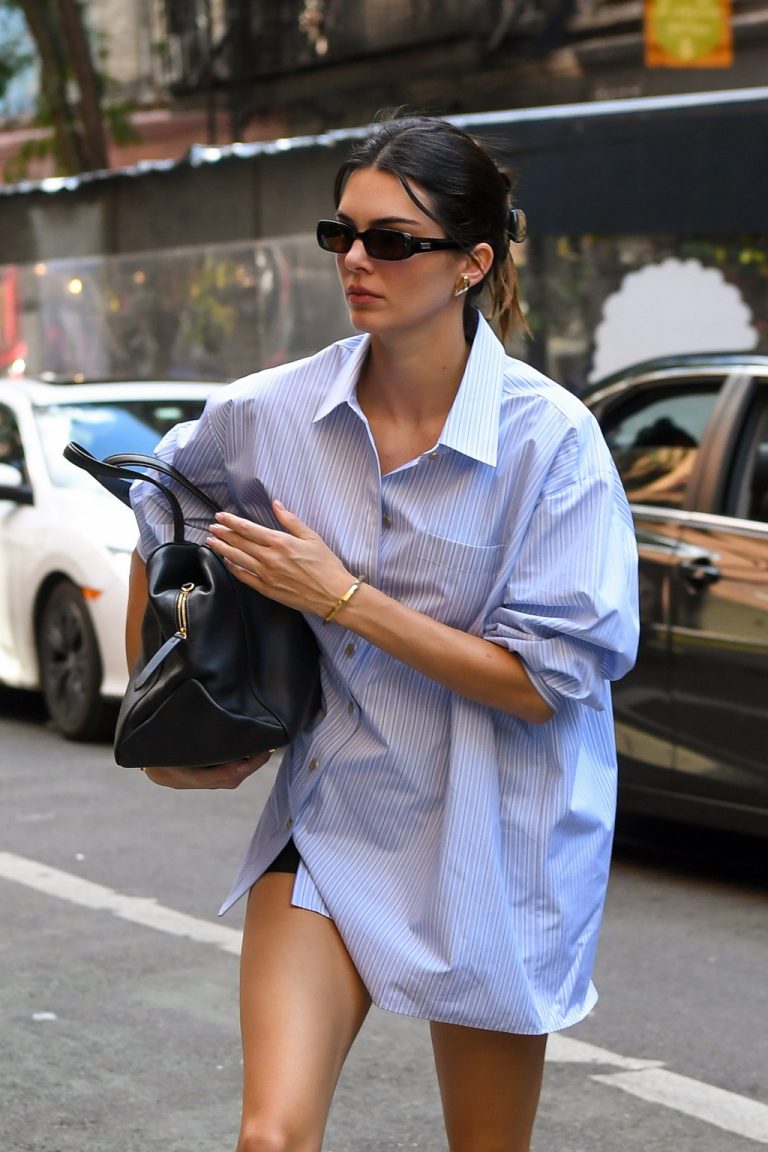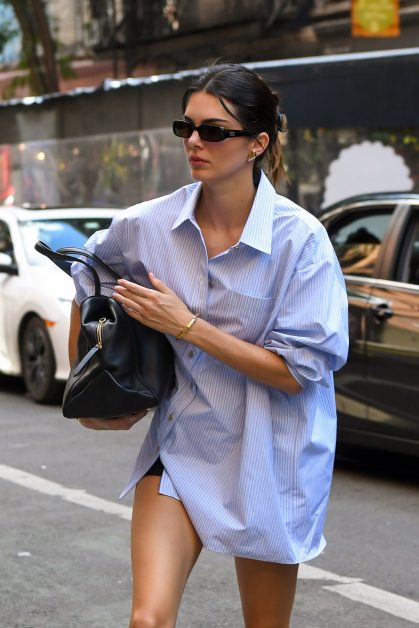 Just this Tuesday, the supermodel made heads turn on the streets of New York City. She sported an oversized blue-and-white striped button-up shirt, skipping the trousers (except for a pair of black hot pants peeking out), and completed the look with black leather loafers. But the real showstopper was her ridiculously roomy bag, more reminiscent of a duffle bag than a handbag.
Kendall perfected the ensemble with matching rectangular glasses, bold gold statement earrings, and a coordinating bangle. Her dark locks were elegantly secured with a claw clip, with a couple of face-framing strands. She even shared this striking outfit on her Instagram Story with a mirror selfie, apparently taken in an elevator.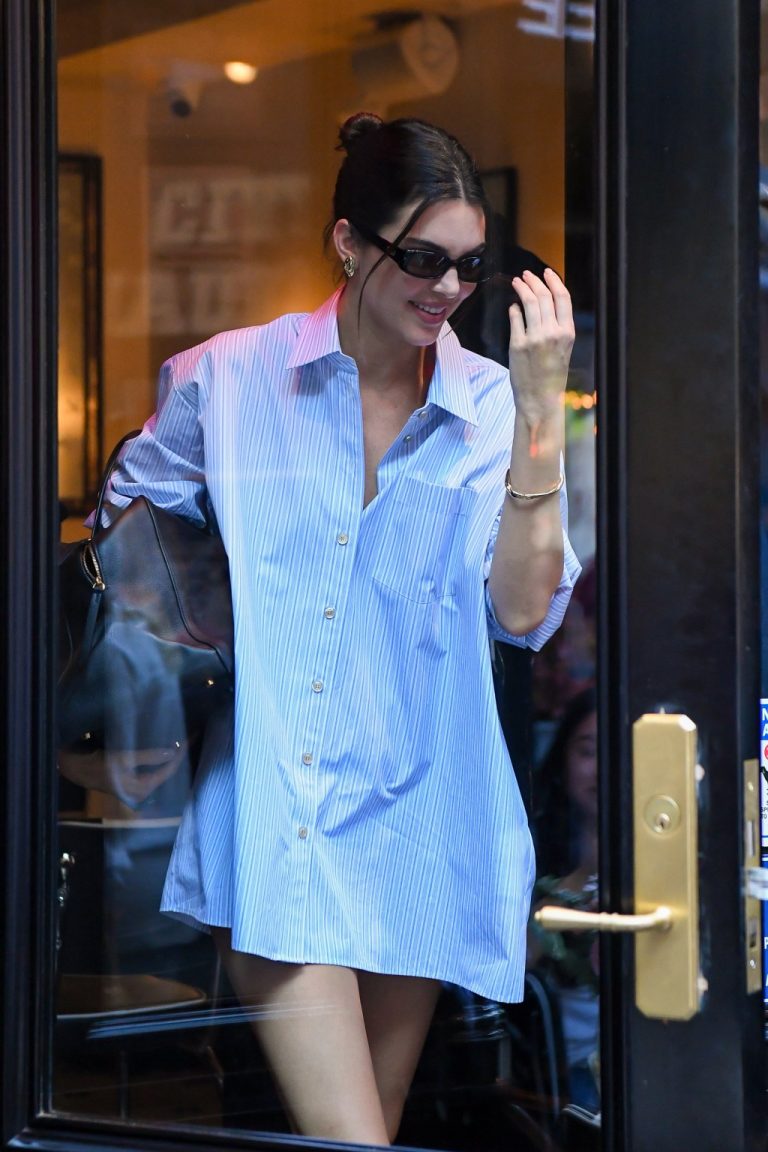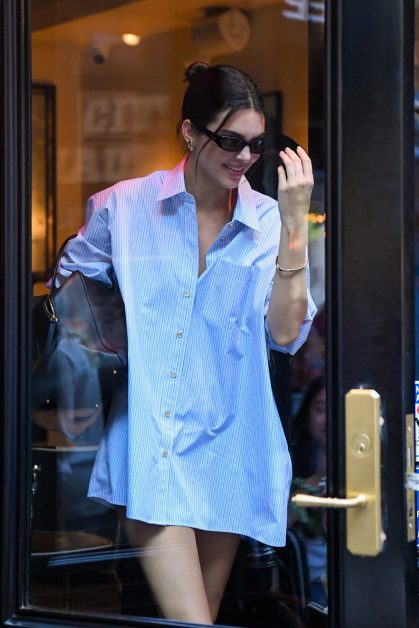 Earlier this week, Jenner stayed true to her minimalistic style but this time opted for pants. On Monday, she was spotted in the Big Apple donning black slacks, a gray tank top, and a pale yellow raincoat.
Over the weekend, Kendall Jenner and her rumored beau, Bad Bunny (real name Benito Antonio Martínez Ocasio), enjoyed a date night at Cosme. She wore a gray crewneck with floral accents and black straight pants, while Bad Bunny rocked a white button-up, baggy jeans, and a backwards baseball cap.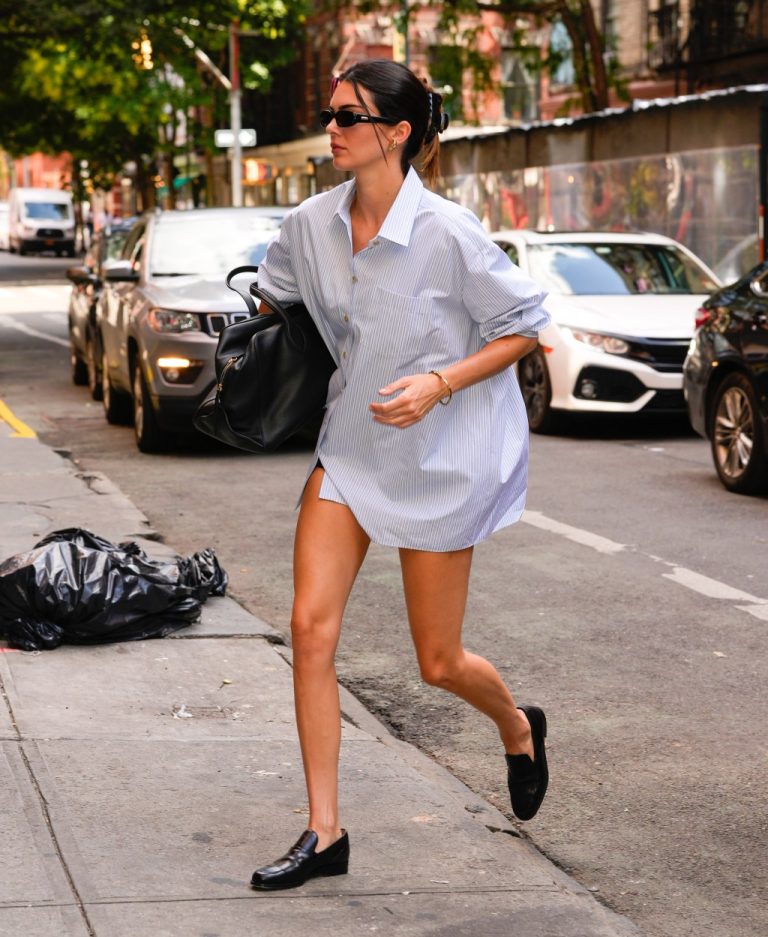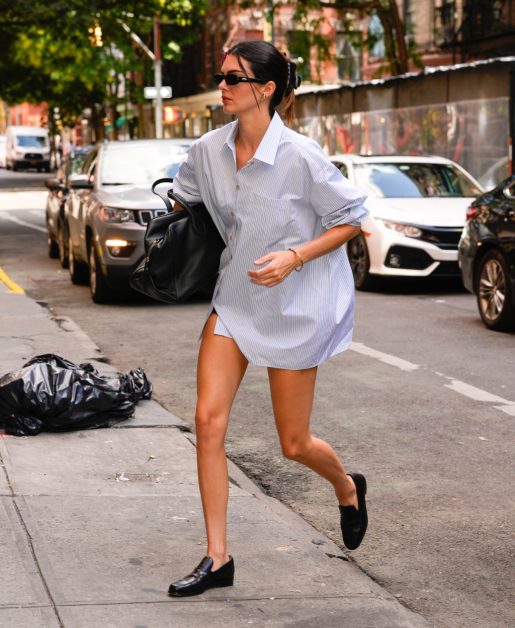 Though their relationship remains unofficial, the couple has been seen on multiple date nights in the last few weeks. In a recent interview with Vanity Fair, Bunny made it clear that he's not obliged to reveal anything about his personal life, saying, "I don't have to accept anything just because I wanted to be an artist. At the end of the day, you listen to me because you want to. I don't force you to."