The Kitchen Cabinet is one of the most important rooms in the house for the stay-at-home parent, so when furnishing or renovating it, women pay great attention to its decorations and the choice of colors.
In order to make a vibrant kitchen, you must think about many important things, the most important of which is choosing the colors of your kitchen cabinet, as its units form a large part of the general appearance of it and also your feeling inside it.
Therefore, in this report, we offer you interior designers' tips and tricks for choosing the right color for your kitchen cabinet.
To begin with, the color of your kitchen cabinet should be determined by its area and design, as well as your personal interior design preferences and tastes.
Plus when choosing a color for the kitchen cabinet, it is necessary to pay attention to the harmony with the colors used on the kitchen floor and wall.
The amount of light entering the kitchen and the size of your kitchen itself is very influential in choosing the colors of your cabinet.
Choose cabinet colors based on your kitchen design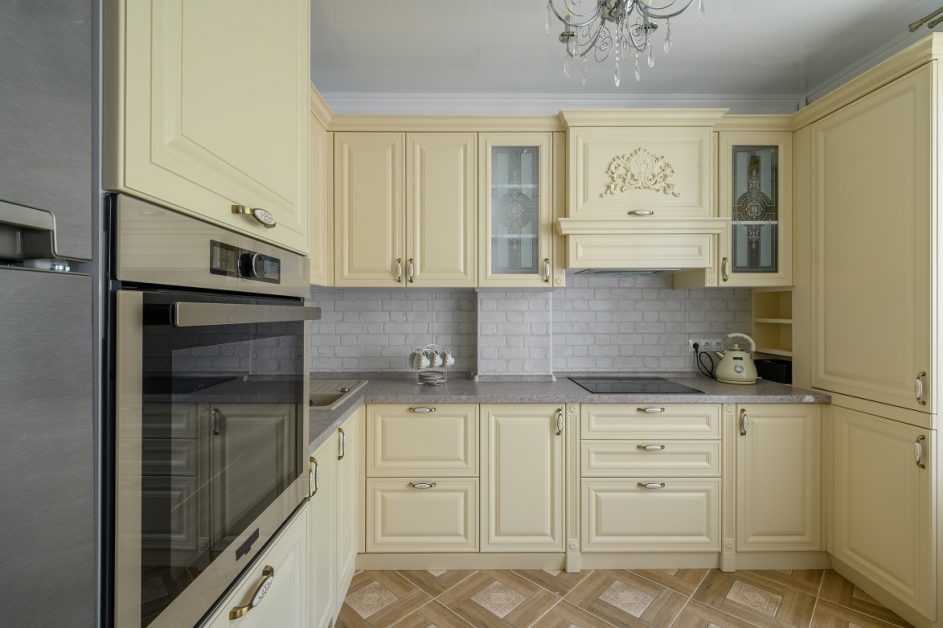 If your kitchen has a traditional interior or classic wood style, cabinets in classic colors like cream and white are always a good idea.
If you choose a modern or modern design kitchen, you can be bold by choosing the colors blue in its light and dark tones, rich red, or sunny yellow.
kitchen size and lighting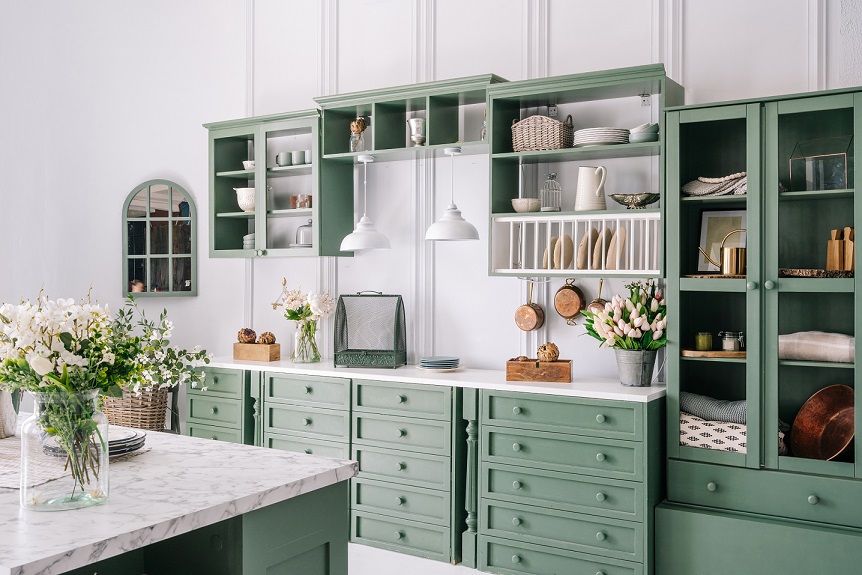 Interior designers always emphasize that dark colors make the space appear smaller, while light colors make it more spacious.
When choosing the colors of the kitchen cabinet, if your kitchen does not have enough lighting or a large window that allows a lot of natural light to flow into it, it is recommended to choose lighter cabinet colors to make the small kitchen appear larger.
cream, beige and white shades are good choices.
You can also choose shades close to butter yellow or green in the color of sage green.
If you have a large kitchen with an island with a smooth granite countertop, you can opt for darker or even lighter colors for the cabinet doors.
This is because the more spacious space can handle many colors and design options.
Coordination of kitchen cabinets with wall color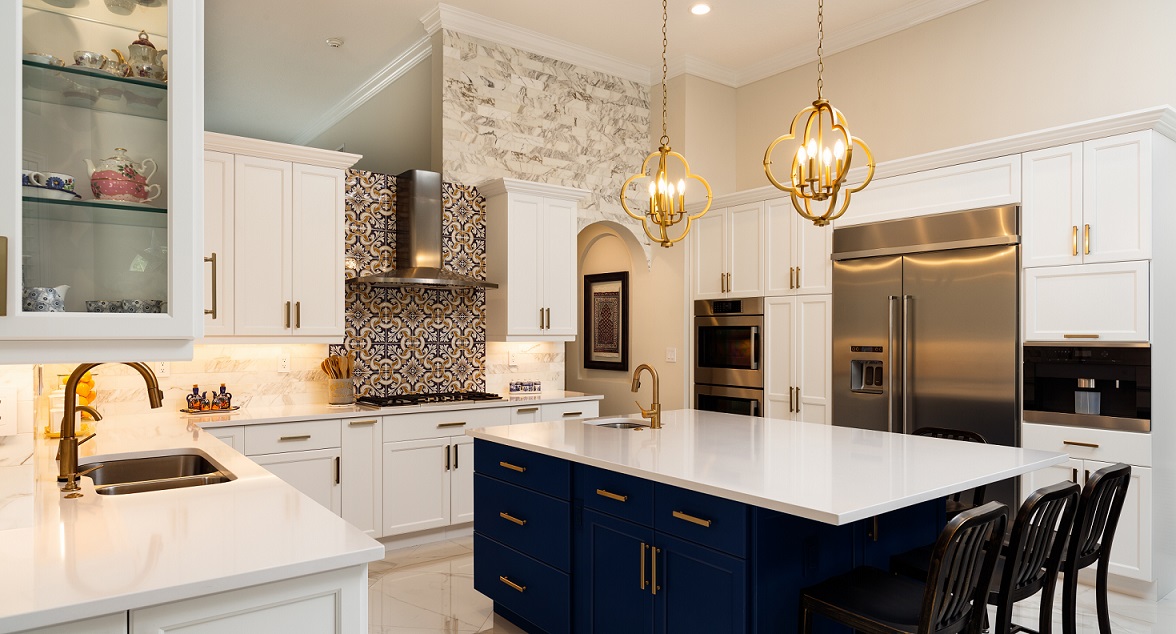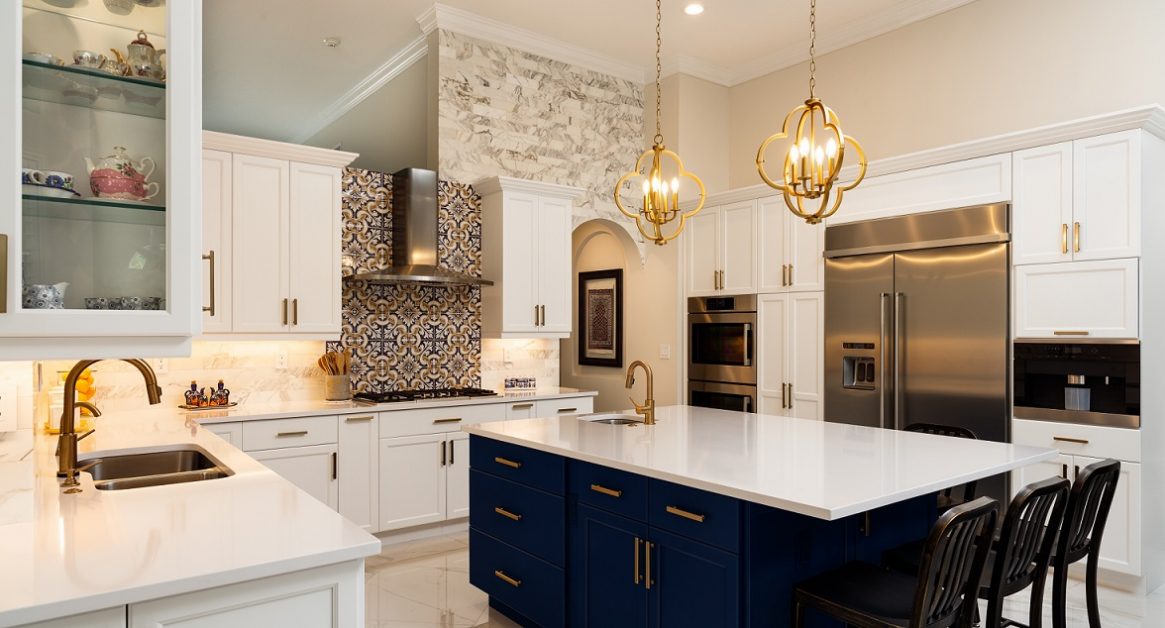 The stay-at-home parent must pay attention to the necessity of coordinating the colors of the kitchen cabinet with its walls.
For example, kitchen walls are in neutral colors such as cream or gray combined with any type and color of the cabinet, so your options are open to you.
If you are repainting the kitchen walls for renewal, you can go for a bright color such as lemon yellow or lime green to create a bright and bright environment in your kitchen, with the importance of choosing the colors of the kitchen cabinet based on how much the wall appears around the cabinets and appliances, especially if you use a light cabinet color or neutral.
The mood and colors of your kitchen cabinets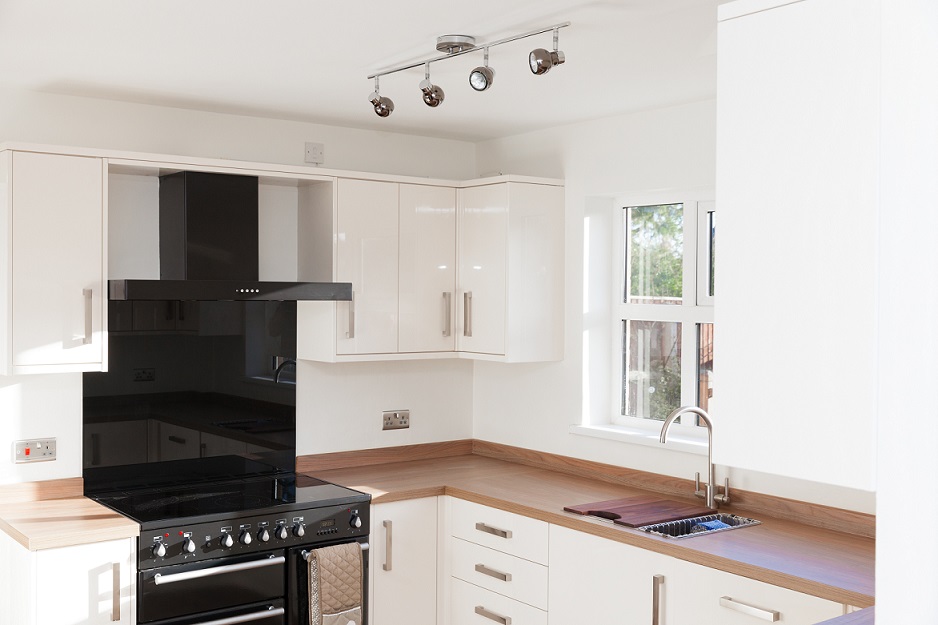 Whatever mood you want to evoke in your kitchen, his cabinets will be the driving force as they take up a lot of visual space.
For example, if you like to experiment with different flavors in your cooking, you can add some spice to your kitchen color palette with dark red cabinets.
If you want to go traditional in your kitchen, you can count on a classic all-white look or a rich brown wood cabinet.