The jumpsuit has replaced evening dresses frequently, most notably weddings and engagement parties, so the bride is now adopting it instead of the dress.
The main reason behind the popularity of this suit is its endless diversity. For those who want an elegant look, they can wear a jumpsuit that suits their bodies, whether they are slim, full, or even short or long.
shining jumpsuit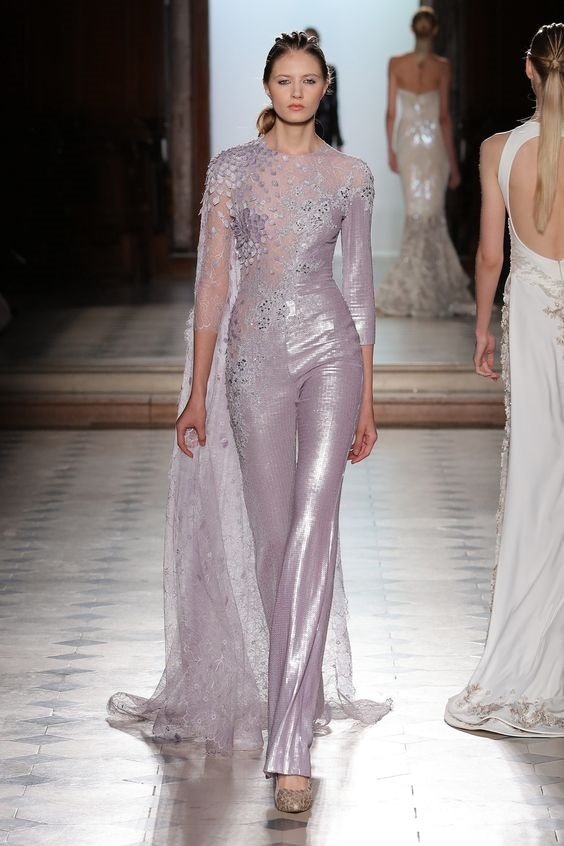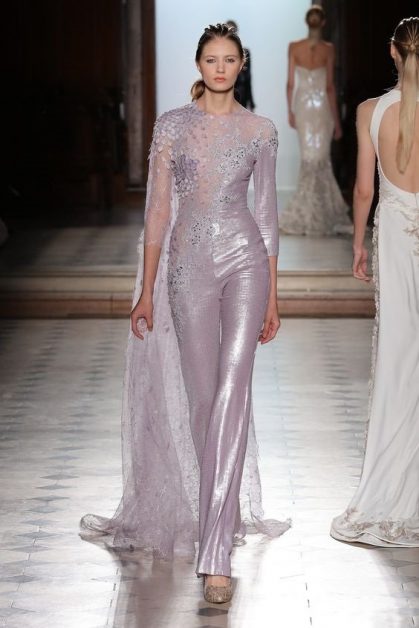 From the Lebanese designer Georges Hobeika's collection, we chose a sparkling jumpsuit embellished with Swarovski stones, a halter neckline with an X-shaped neckline and skinny pants. We advise women of slim physiques to adopt it with a raised hairstyle.
And for a glamorous look also in a silver-purple color, the Tony Ward collection included a narrow design, with different sleeves, a medium-length, narrow sleeve and a wide cap-shaped sleeve, and its upper section was studded with various stones.
wide jumpsuit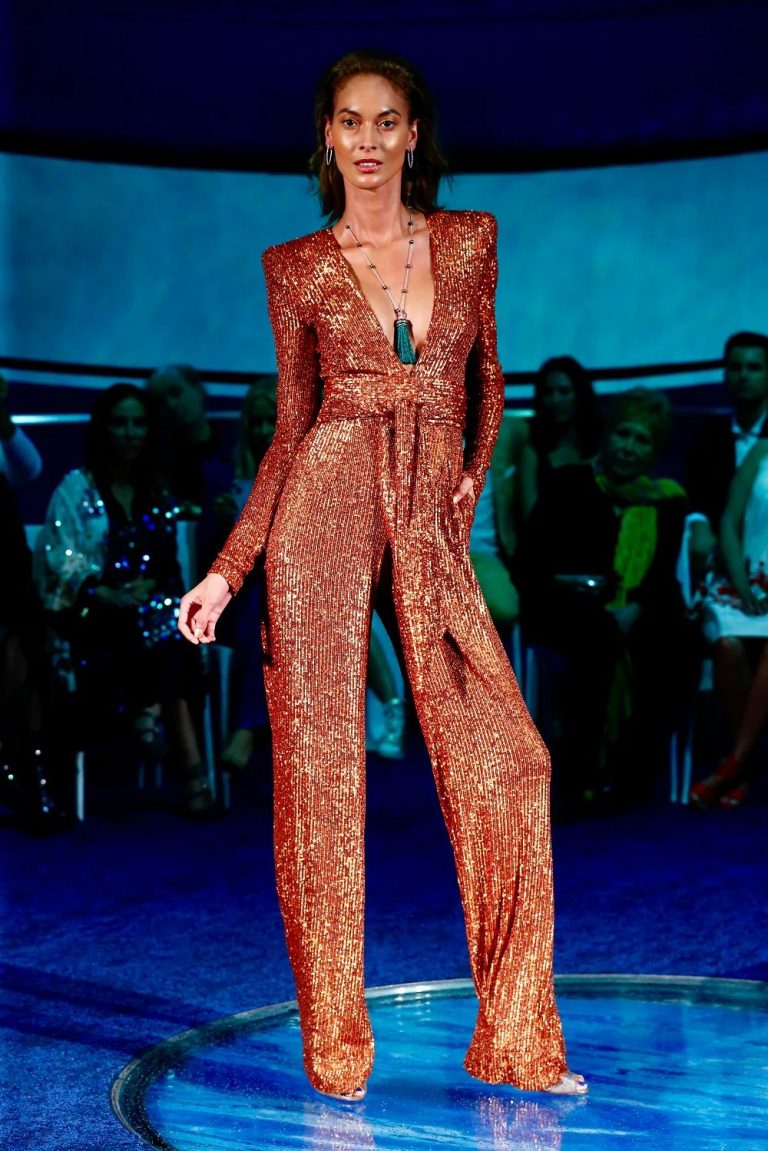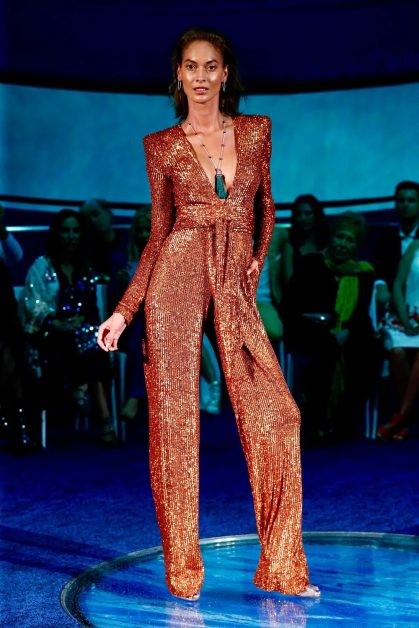 For bridesmaids who are characterized by a full body, they should adopt a wide design that hides the fullness of the buttocks area. From the designer Elie Saab's 2023 collection, a suit with long and flowing sleeves, an open collar and wide trousers, distinguished by its studded stones on the collar and fringes that adorned its sleeves and sides of the trousers.
And from the Indian designer Naeem Khan, you can adopt a bright orange jumpsuit, with a wide cut, long sleeves, a low v-neck and a belt that defines the waist. Matches this look with a gold necklace that adds attractiveness to the look.
Tight jumpsuit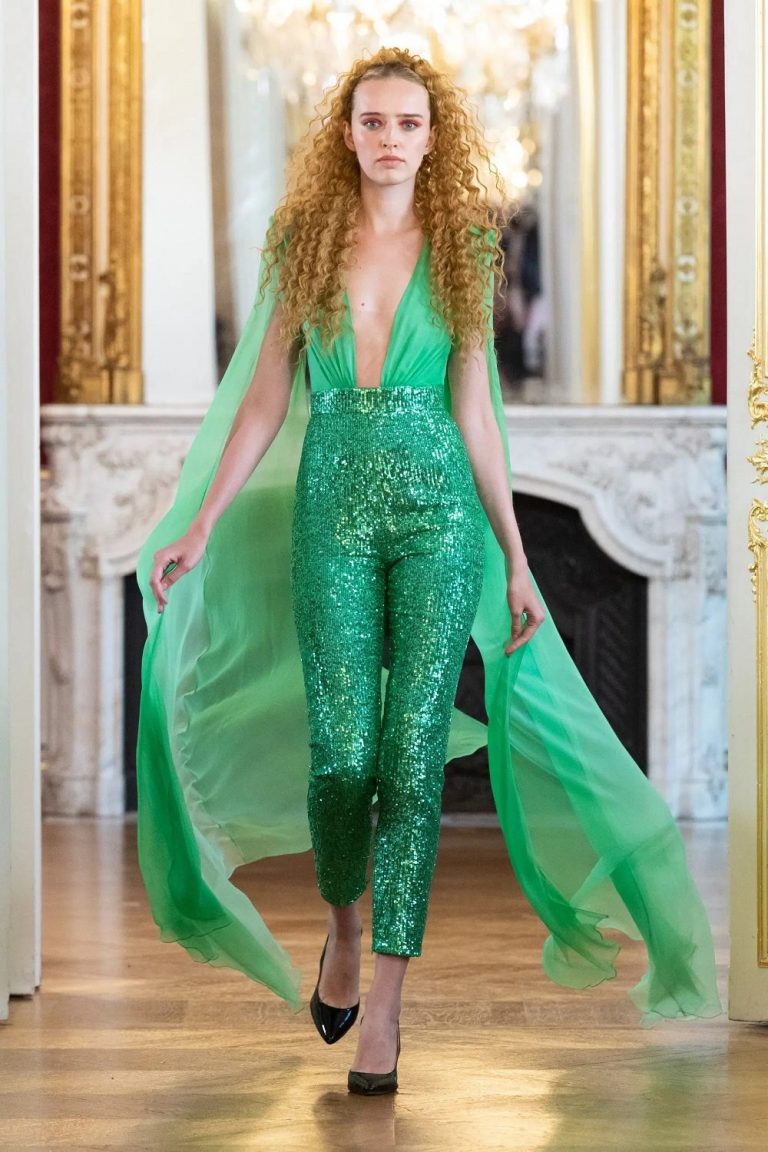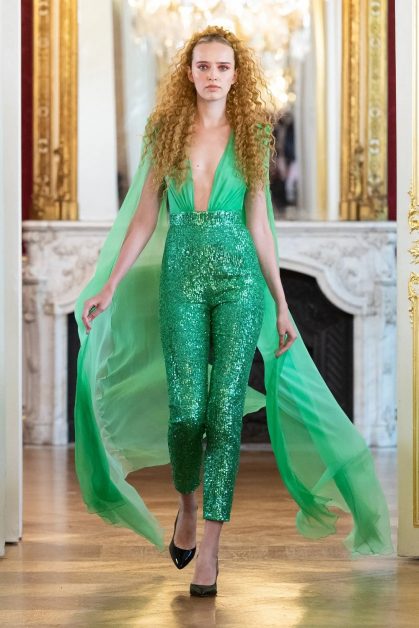 During summer, we saw joyful color trends, such as the yellow color that suits women with brown and brown skin, as it looks bright. From the Syrian designer Rami Al Ali's collection for 2022, we chose a corset-style jumpsuit with tight satin pants added to a puffy connected skirt, and models with soft embroideries from sequins or bytes.
One of the popular colors for this summer, and we talked about it in a previous topic, is green.
From the La Metamorphose collection, we chose a tight-fitting jumpsuit in a bright green color, the top section was designed with suspenders and an open low V-neck, and a tulle scarf was added from the back, and the trousers came with shiny sequins.