The designs of woolen dresses are still very popular this season, and we have seen many attractive models and a variety of cuts and colors, most notably midi dresses with narrow or straight cuts, which will give you distinctive looks and will highlight the textures in a beautiful and attractive style.
Today, I chose 4 distinctive designs for midi-length wool dresses, in various colors that are suitable for autumn looks, and I coordinated them in over one style and style, to inspire what suits your taste and body shape.
Stylish youthful style in a Bordeaux-colored midi wool dress!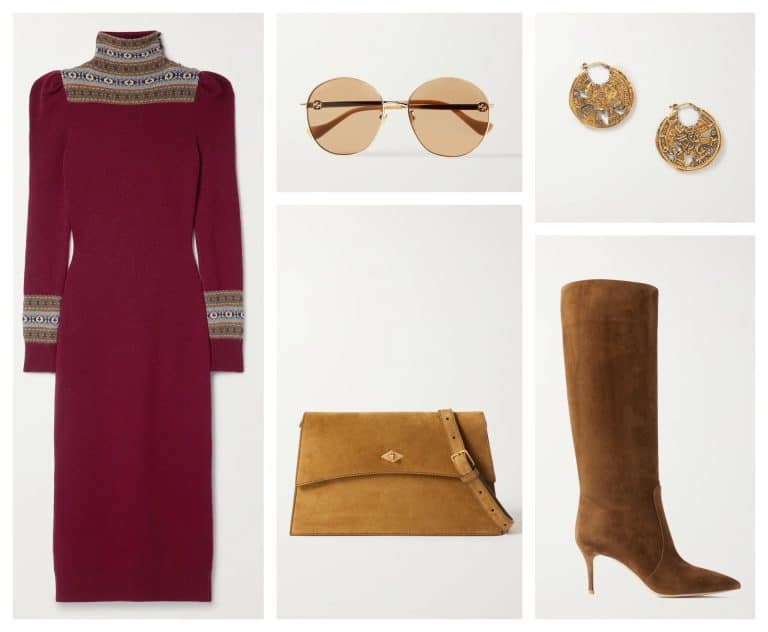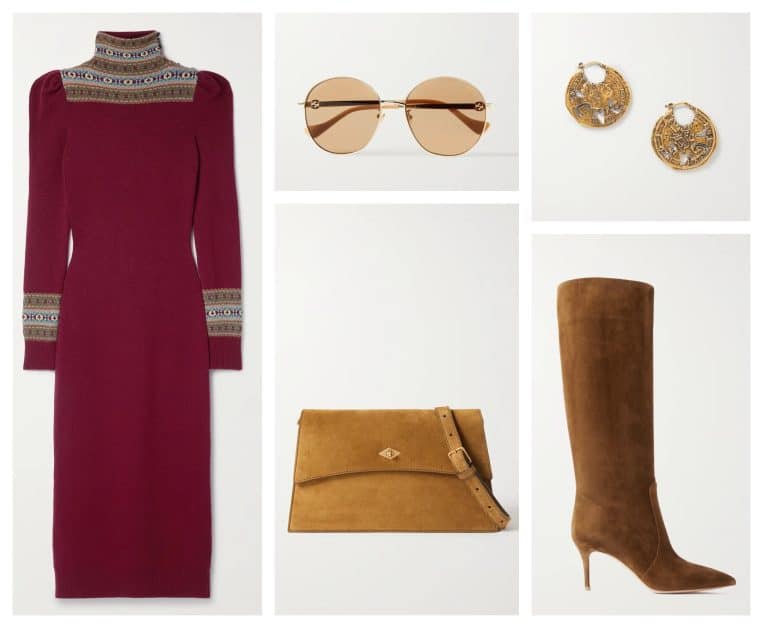 For this look, I chose an attractive dress from RALPH LAUREN COLLECTION, in soft cashmere with a kilt length and a narrow cut with colorful motifs adorning the high collar and long cuffs. She styled the dress with GIANVITO ROSSI high-heeled boots, crafted from soft brown suede, with a pointed toe and stiletto heels. I chose the bag by MÉTIER in honey, with an accordion-style suede design in Italy, which opens into three compartments equipped with pockets and is decorated with an artistic clasp in gold-tone metal. She completed the look with ACNE STUDIOS earrings, cast in gold-tone metal resembling antique medallions with prominent brand initials. I chose GUCCI EYEWEAR sunglasses with round lenses, made in Italy in gold-tone metal.
Pale blue and upscale look attractive midi dress of wool!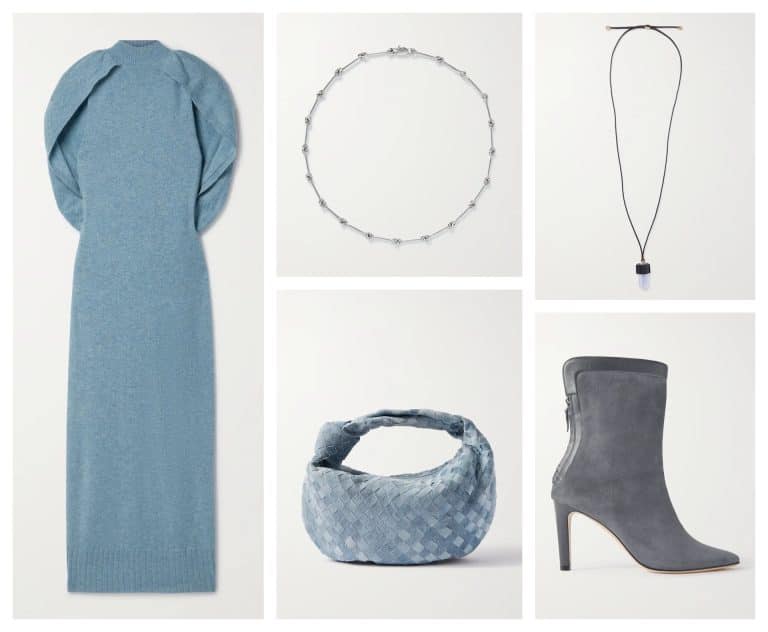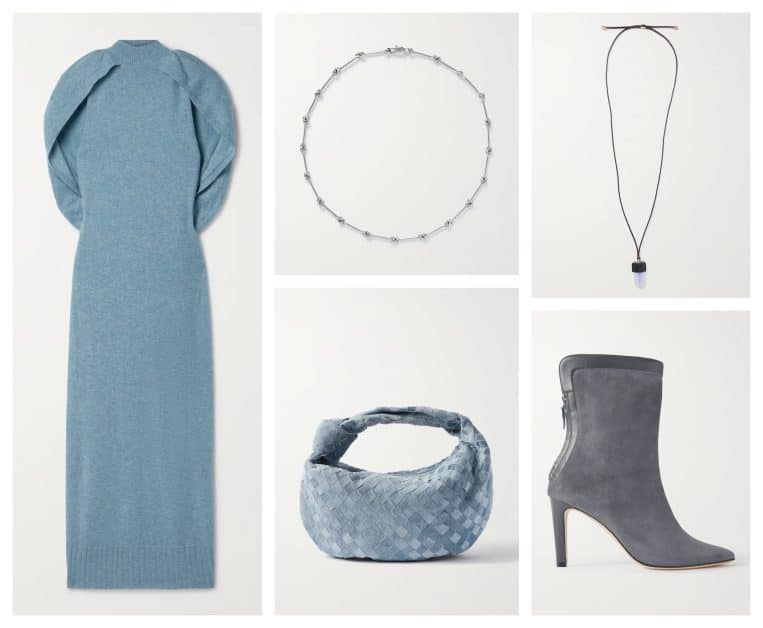 A special and elegant pale blue midi dress by JONATHAN SIMKHAI made of recycled cashmere with a classic turtleneck and soft pleats at the back that add a royal touch to the design. Gray Ankle Boots by MANOLO BLAHNIK, made of gray suede, with a comfortable 90mm wide heel. I chose the bag in a pale blue design by BOTTEGA VENETA with a smooth circular shape with the top handle knotted on one side and crafted in Italy from bright blue leather stripes that have been treated to look like denim.
She completed the look with a long necklace by CHLOÉ, crafted in smooth black leather with a beautiful white onyx pendant. A necklace from LAURA LOMBARDI was adopted, with a handcrafted design of platinum-plated metal with thin interlocking links.
A shining sequin with a sophisticated look in brown midi dress!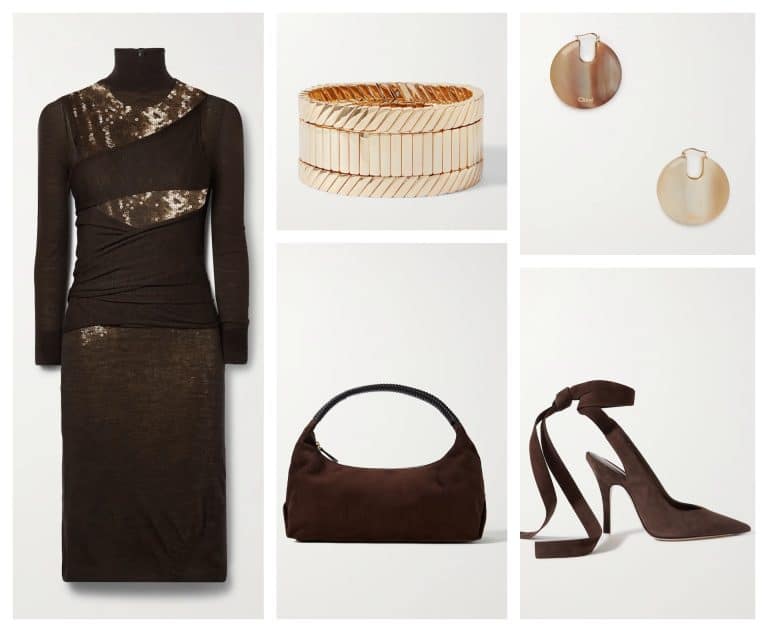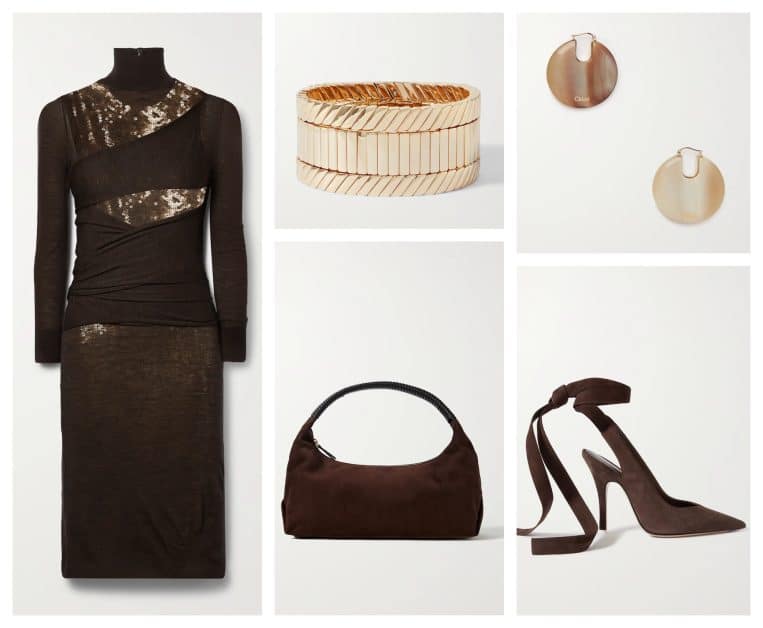 The brown color that is suitable for autumn looks, I chose a dress from Victoria Beckham, with a midi length, a narrow fit and long sleeves, made of tulle embroidered with sparkling tension and covered with layers of fine wool. She kept the brown with this look by choosing the shoes from THE ATTICO made in Italy in dark brown suede, with a pointed toe, 105 mm high heels and elegant ankle straps.
The bag was designed by KHAITE, in dark brown as well, with a simple and elegant cut. In terms of accessories, I chose attractive earrings from CHLOÉ in a mixture of warm earthy colors and a beautiful marble finish, and I liked the ROXANNE ASSOULIN bracelets, which consist of three bracelets made of gold-tone metal and fastened with a flexible wire that its wrists of any size.
Modern style black wool midi dress!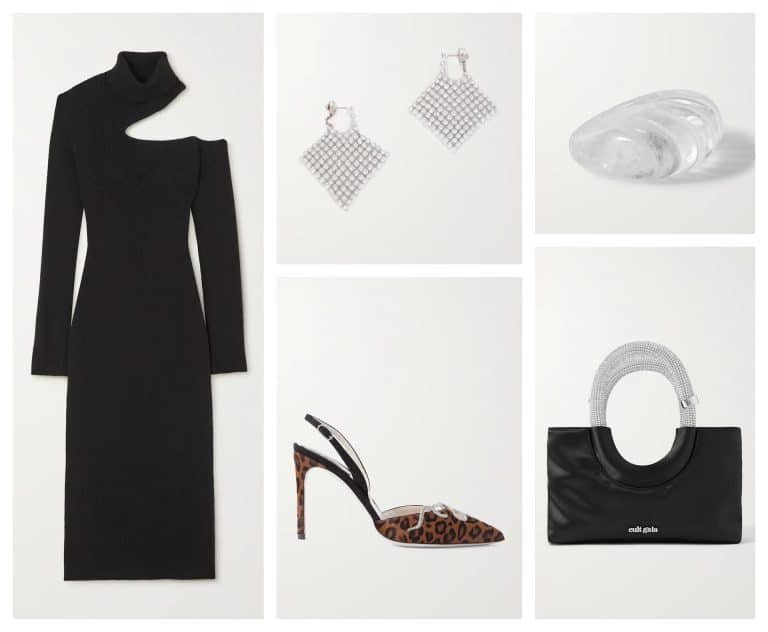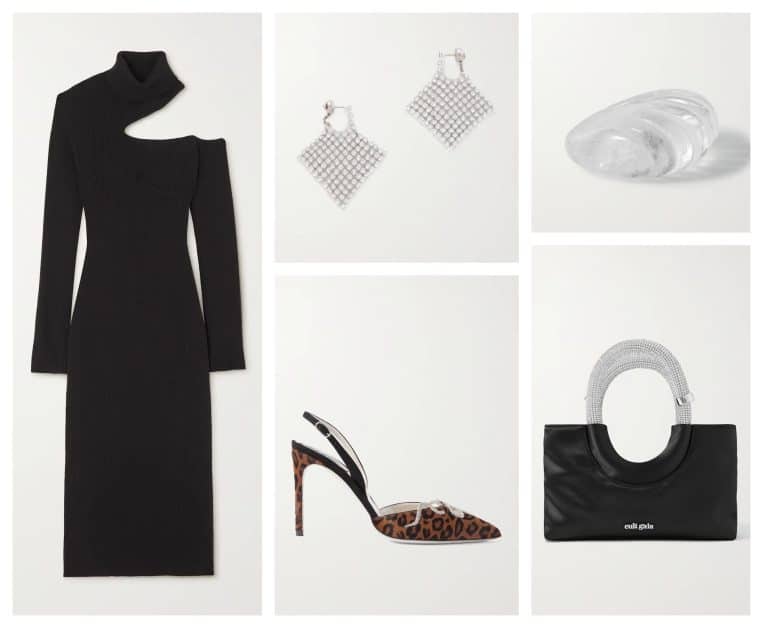 For those who prefer basic black looks, choose a midi virgin wool-blend dress with long sleeves and a slim fit that will accentuate the figure beautifully, and is decorated with an opening below the crew neck and slightly high. With the dress, I chose luxurious and attractive shoes by RENÉ CAOVILLA, made in Italy from calf hair printed with a leopard print, pointed toe, high and thin heels with a height of 100 mm, and decorated with a sparkling crystal studded snake that accentuated the luxury character of the shoe.
Adopted by a beautiful design by CULT GAIA, the small size is made of glossy black satin with twisted top handles and embellished with sparkling crystals. She completed the look with perfect earrings from GIVENCHY, crafted from enameled mesh-like metal and encrusted with Swarovski crystals smoothly flowing in a fabric pattern. The ring I chose from SOPHIE BUHAI with a handcrafted design of quartz and sculpted in the shape of a large scallop.