The leading international fashion houses specializing in luxury fashion have showcased their creative masterpieces in wedding dresses at the culmination of the Paris Haute Couture Week for the Fall 2023 season. As usual, Lebanese names have secured their place and competed strongly with the most important global brands. Scroll through the photos to discover the latest trends that adorned the runways, which could serve as a source of inspiration for every bride planning her wedding in the coming fall.
Voluminous Wedding Dresses from Paris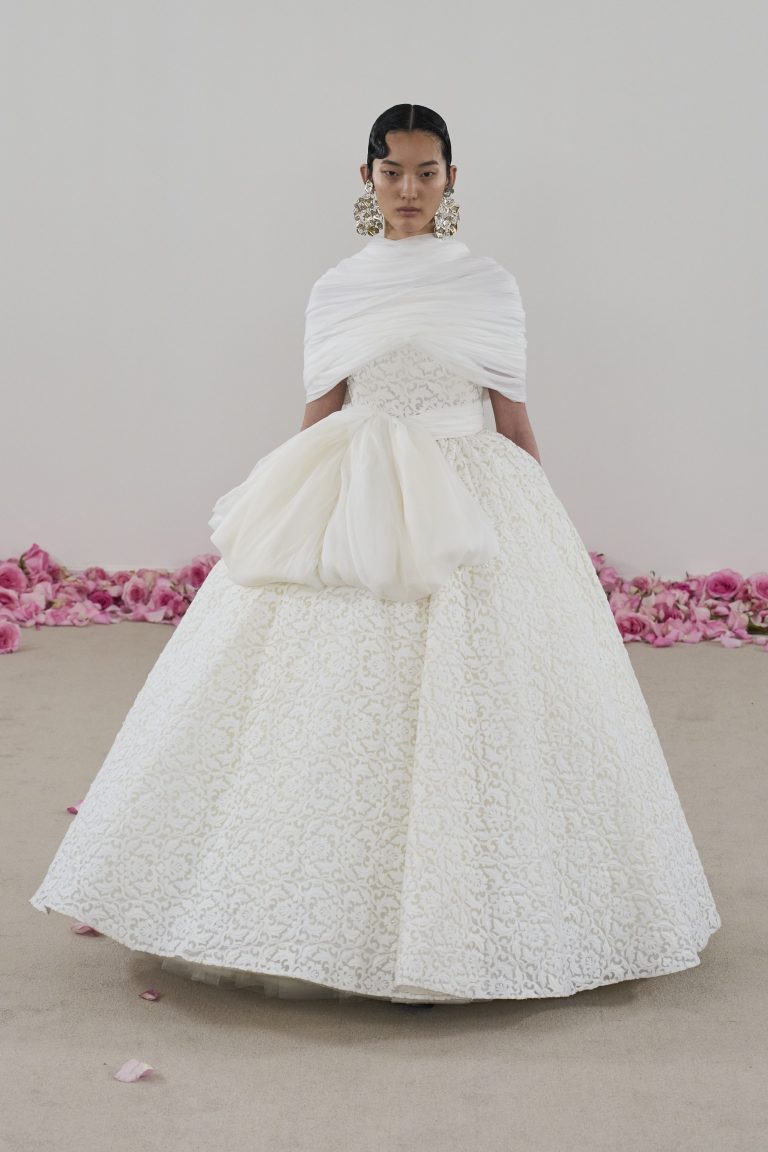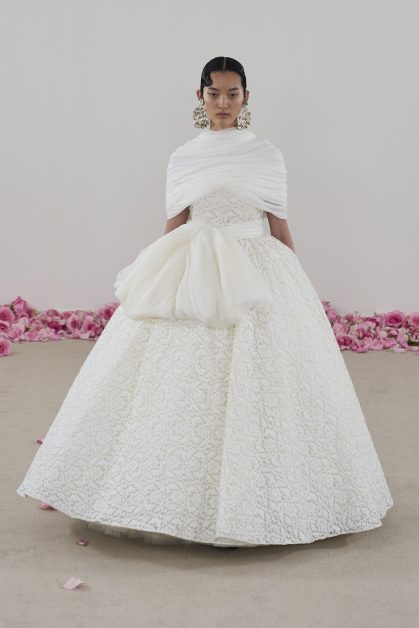 Long wedding dresses with voluminous skirts were prominent on the runways of Haute Couture Week. Giambattista Valli presented one of the most luxurious designs, entirely enveloped in delicate lace, adorned with a chiffon neckline and a large bow defining the waist. This unique design is recommended for slim brides.
Embroidered Short Wedding Dresses, the Latest Trend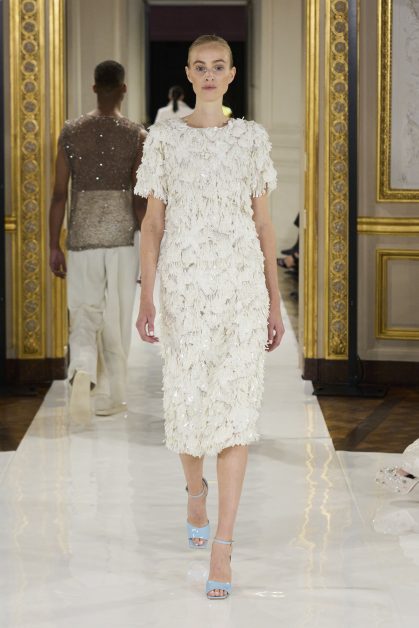 International fashion houses showcased short wedding dresses that barely cover the knees for modern brides. We loved the straight-cut dress with half sleeves, entirely covered in embroidery, by Natan. It suits slim and tall brides, but should be avoided by those with shorter heights.
Couture Wedding Dresses with Additional Skirts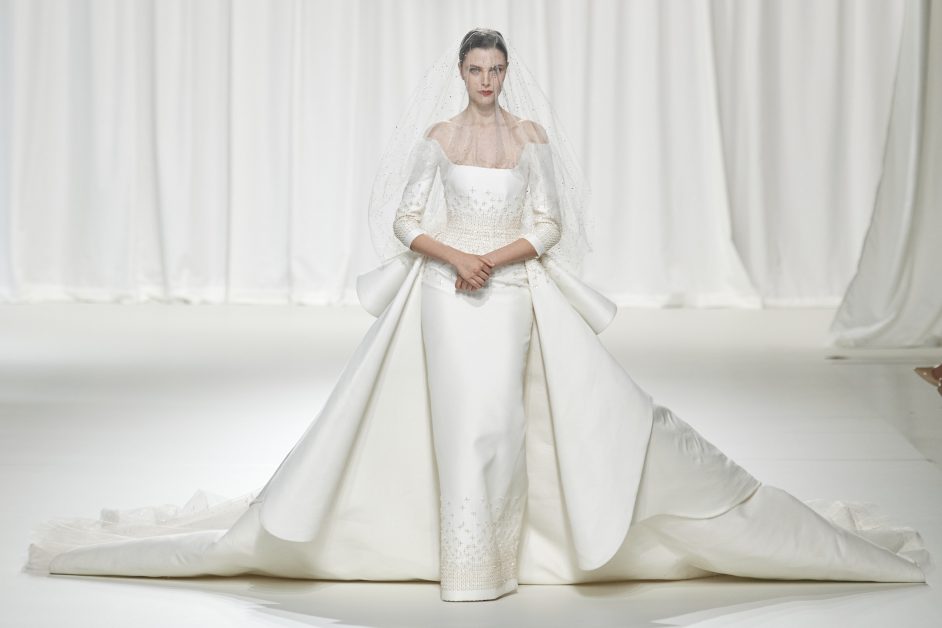 marriage dresses with additional skirts have consistently made their presence felt season after season, and they received special attention on the runways of Paris Haute Couture Week. Syrian designer Rami Al Ali presented a stunning dress characterized by its straight cut, long draped sleeves, and a connected back skirt with a long train. This royal design is recommended for short brides with an hourglass figure but should be avoided by those with a pear-shaped body.
Low-Waist Wedding Dresses from Couture Week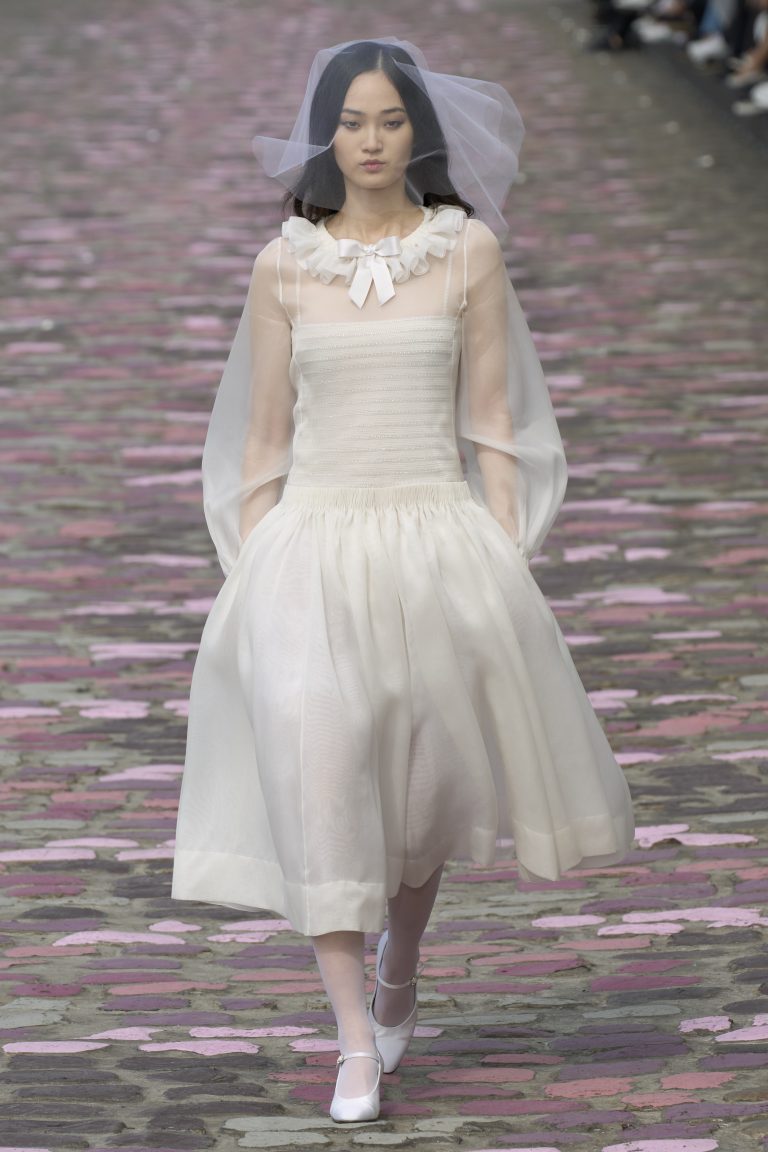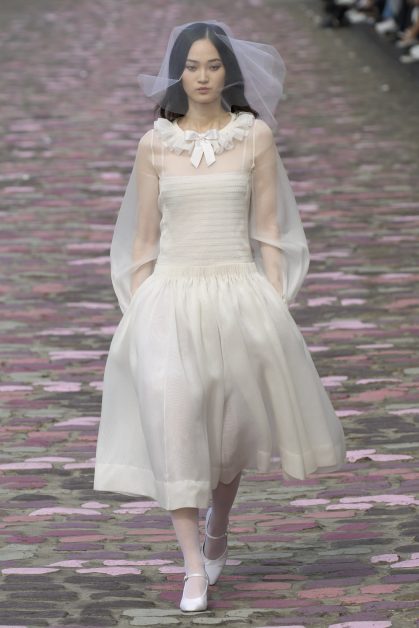 The low-waist trend has taken over the global fashion shows and seems to be the star of the upcoming season. We were impressed by the medium-length dress, fully covered in chiffon and designed with a ruffled neckline adorned with a small bow, by Chanel. This unconventional design suits dreamy brides who wish to be transported back to the era of princesses.
Pleated Wedding Dresses from Couture Shows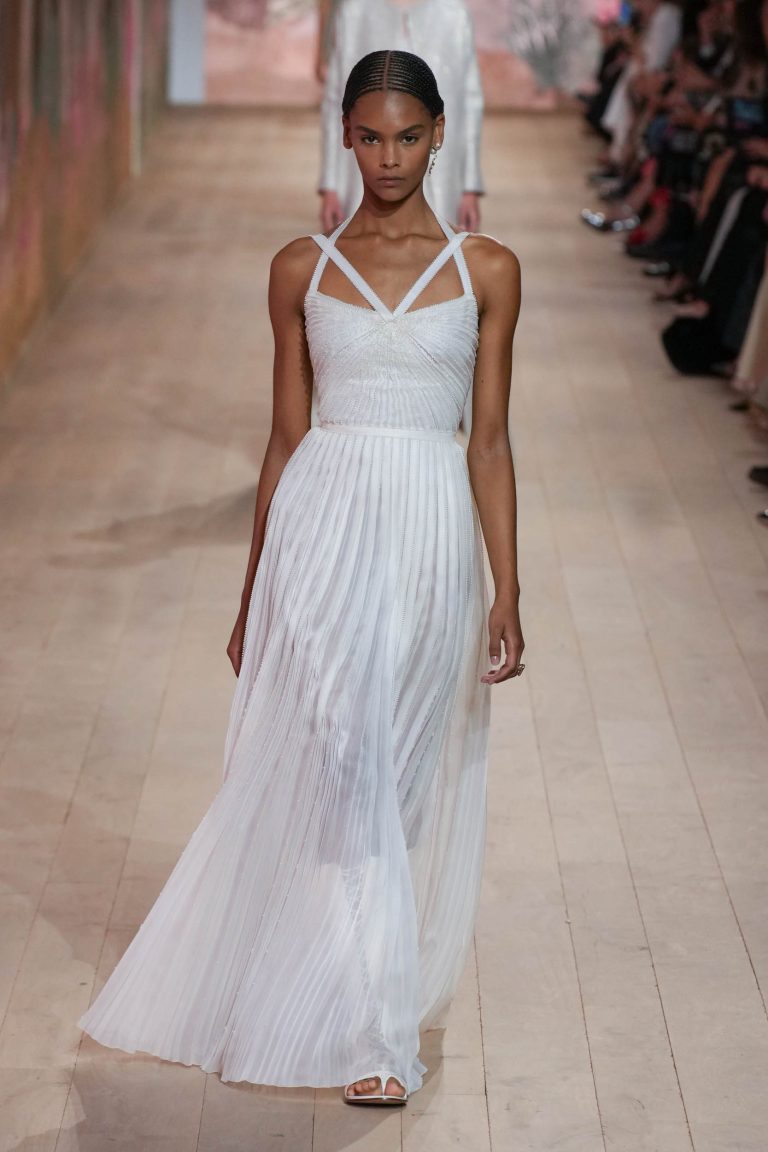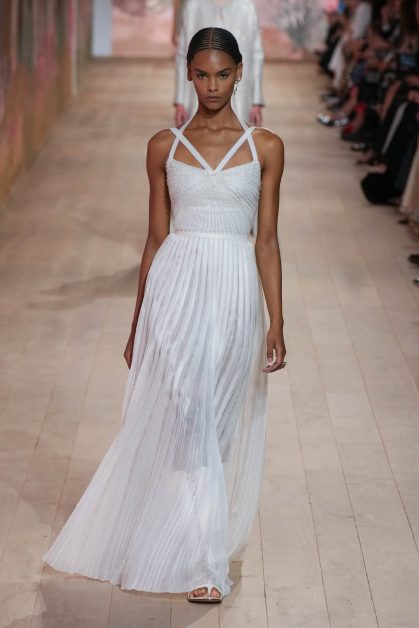 Wedding dresses designed with pleats have found their way to the stages of Haute Couture shows. We spotted a graceful, long dress with a halter top neckline by Christian Dior, which we recommend for shorter brides. The vertical pleats with a high waistline will accentuate their height.
Ruffled Wedding Dresses from Paris Haute Couture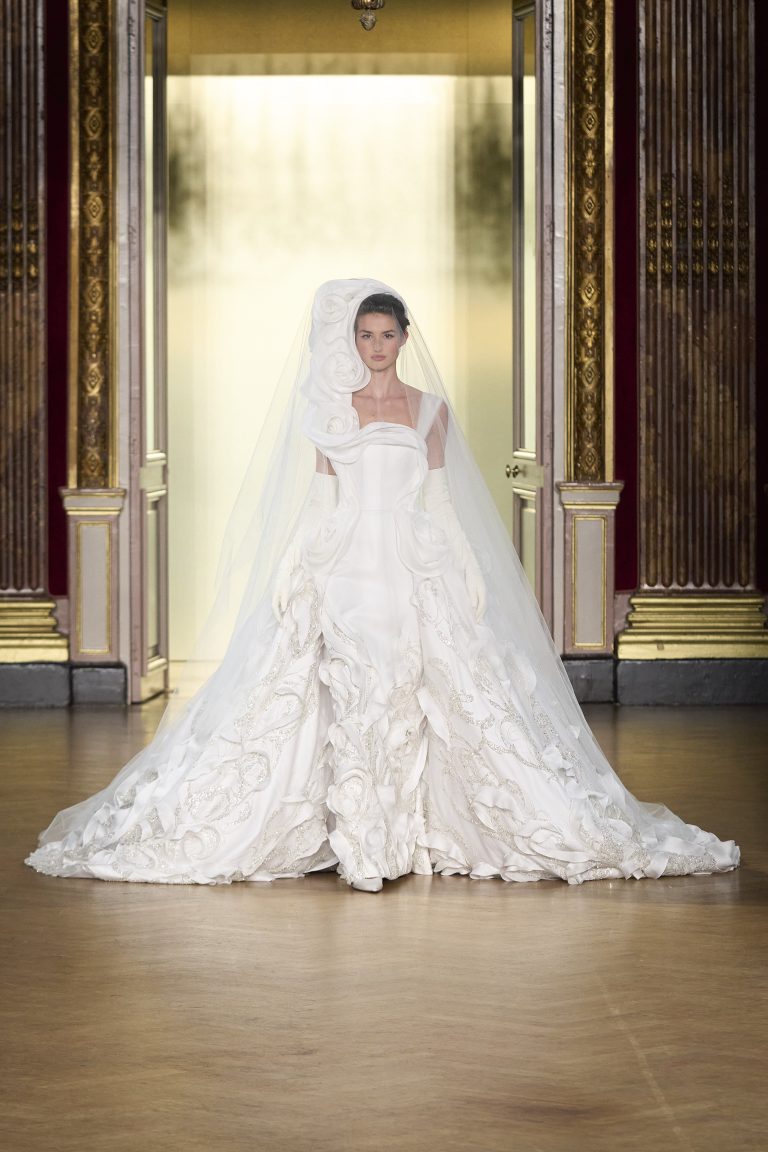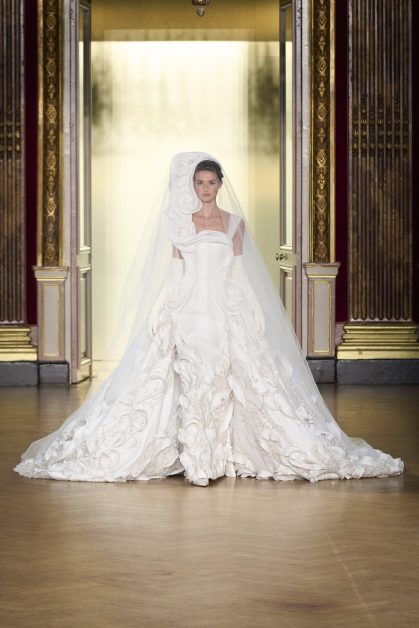 As usual, the Haute Couture collections featured dresses with ruffles. Renowned Lebanese designer Georges Chakra presented an exceptionally elegant design, characterized by its straight cut, extra floor-length skirt, ruffles adorning the lower part, and a portion of the long train. This design is perfect for brides with an hourglass figure.
Soft Wedding Dresses, the Star of Haute Couture Week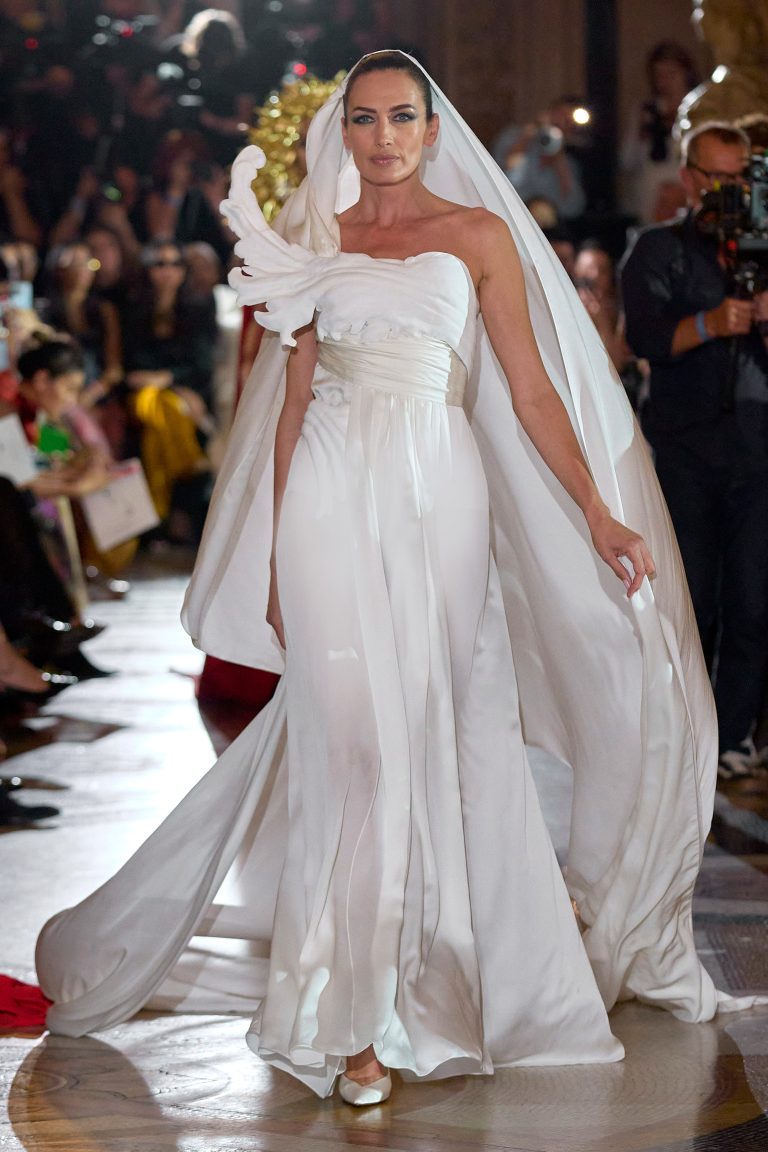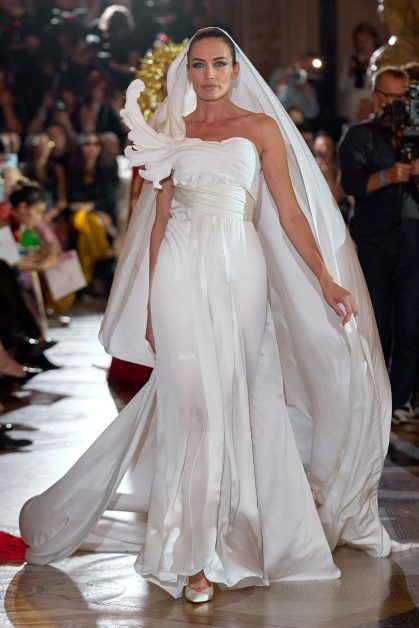 The runways of Paris Haute Couture Week were not without soft marriage dresses designed with flowing cuts and devoid of embroidery. We were captivated by the long satin décolleté dress with a high waist, accompanied by a long matching veil, by Stéphane Rolland. This elegant design suits all body types, except for those with an apple-shaped figure.