While the global spotlight remained fixed on Taylor Swift's captivating L.A. Eras Tour performance (including Channing Tatum's inventive "Anti-Hero" tee), Florence Pugh embarked on a whirlwind of festival fashion, unleashing a series of enchantingly sheer ensembles.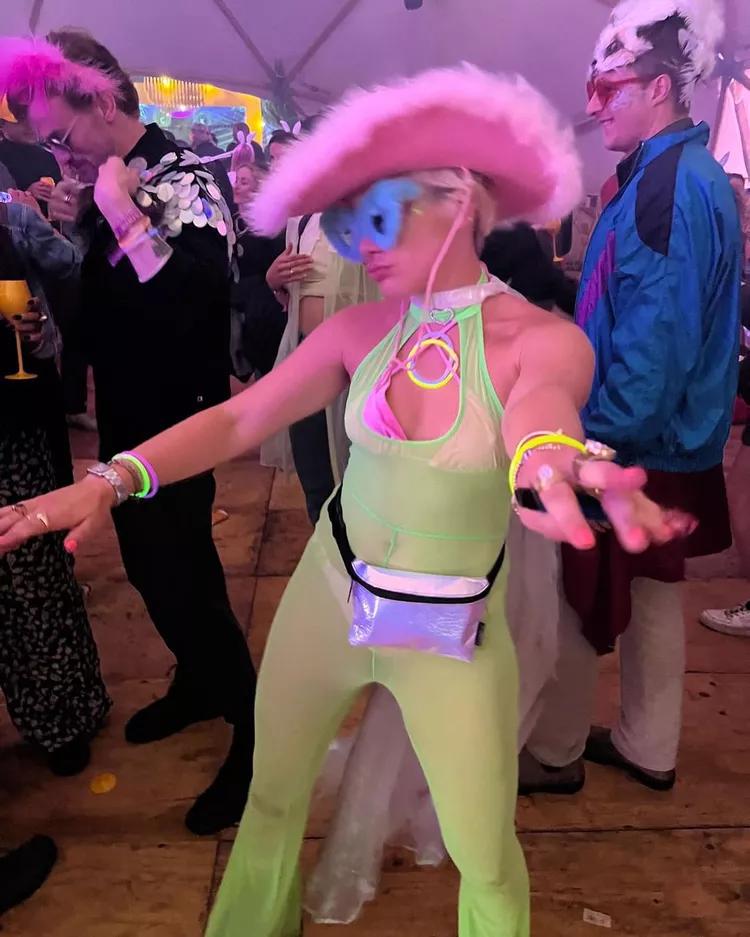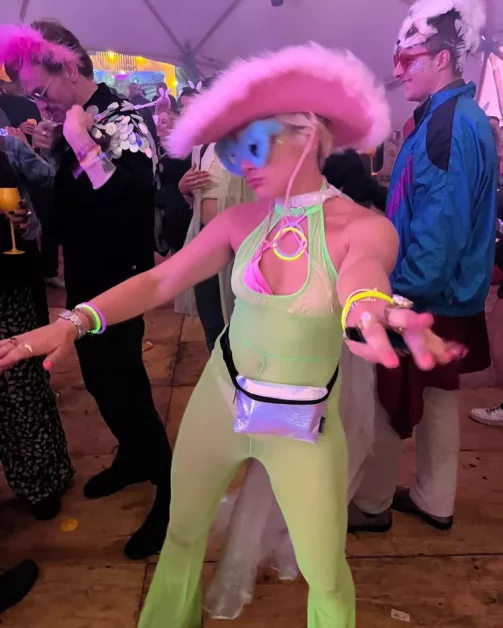 On a Monday, the talented actress reflected on an "undeniably splendid weekend" at the Wilderness music festival held at Cornbury Park in Oxfordshire. She curated an array of eclectic outfits for the occasion, and the first slide of her post radiated sheer joy as Florence and her companions reveled on the grass. Among her diverse festival ensembles, a subsequent slide showcased the quintessential festival-goer attire: a transparent neon green halter pantsuit with flared legs and a daring cutout at the bodice. The outfit's sheer nature was complemented by a pink criss-cross string bikini underneath, mirroring the vivid hue of her fluffy, hot pink cowboy hat.
Florence accessorized her festival look with essentials including a holographic fanny pack, an assortment of rings, vibrant and eccentric sunglasses, as well as an impressive collection of luminous bracelets.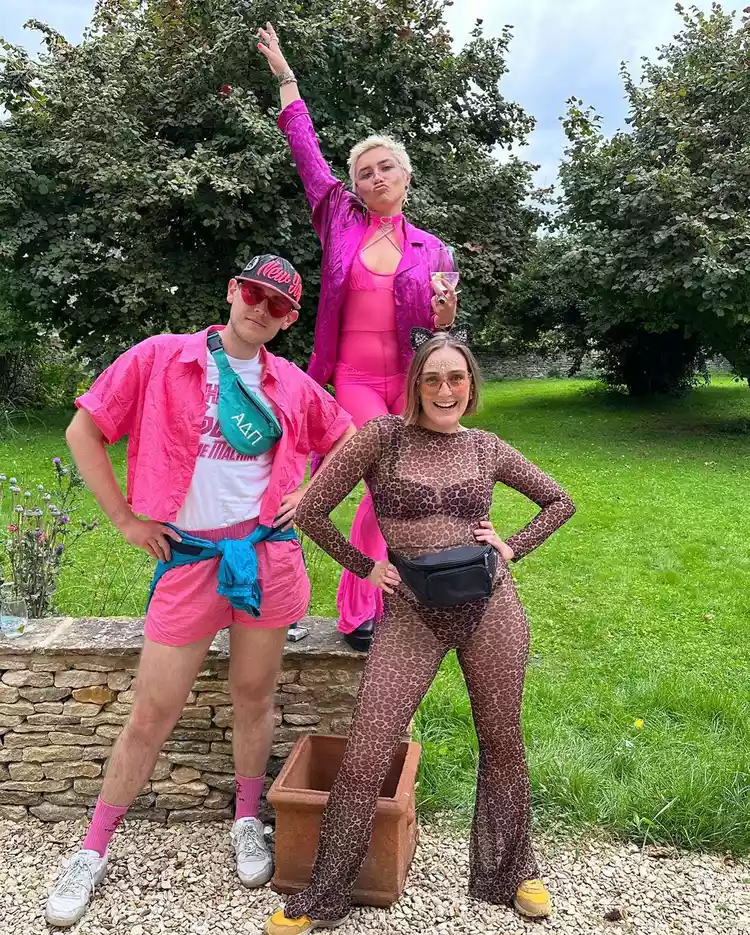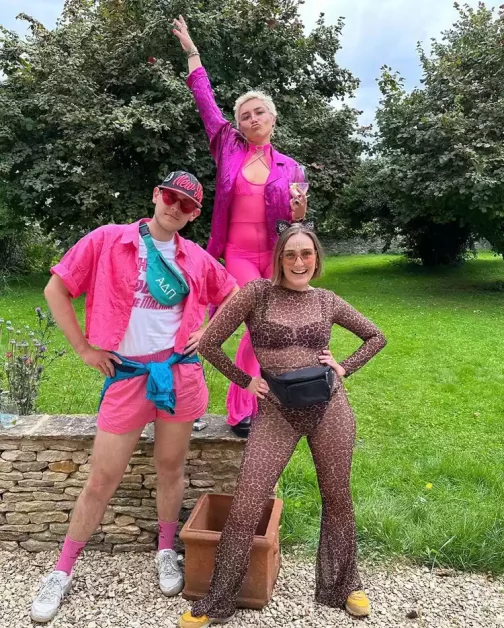 Commencing the carousel of photos, she expressed her adoration: "These are my favorites of all," she stated. "Heartfelt gratitude to @wildernesshq for yet another incredibly splendid weekend. Even the unexpected twist of mild to excruciating food poisoning on the final day couldn't dampen my spirits… and I wouldn't change a single moment. Not even a bite."
Continuing her sentiment, she conveyed affection to her friends: "To my wonderfully peculiar and vibrant group of friends, you're the kind of freakishly unique bunch a 5'4 girl dreams of. I adore you, love you, utterly loooove you."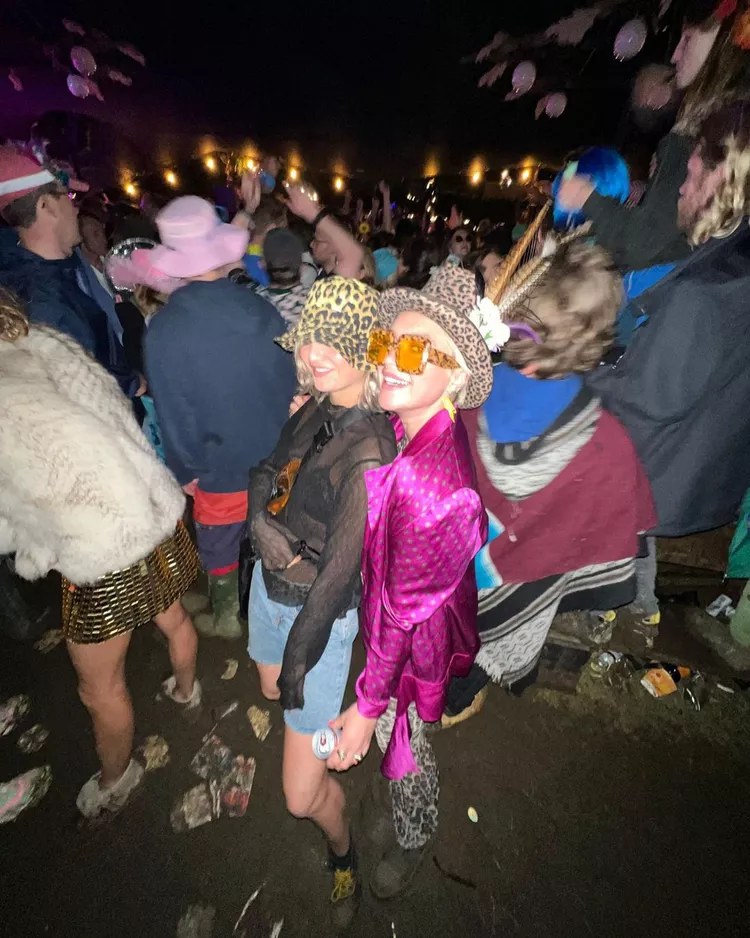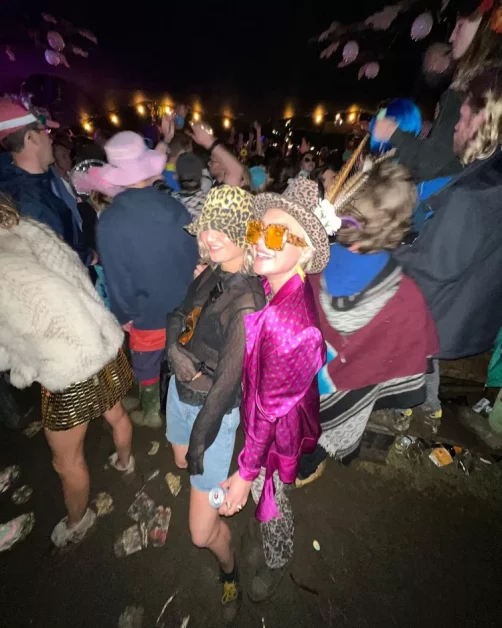 Throughout the montage, the actress and her friends danced, savored live music from front-row seats, and posed for snapshots. In one captivating scene, she sported a sheer, cut-out pink pantsuit alongside black platform boots, all complemented by her bleached buzzcut. A fitting conclusion to the festival album featured Florence and her friend captured candidly within a bustling crowd. She sported an ensemble brimming with eccentric accessories, crowned by a cheetah-print wide-brimmed hat that seamlessly matched her pants, while her oversized sunglasses and her friend's printed bucket hat exuded a playful vibe.