Fur shoes models in Winter has returned, and with it the looks, in which more than one piece of clothing must be chosen in order to get the warmth required by this cold season, but who among us does not want to choose an elegant look besides the warm look as well?
Perhaps this worries women most about comfort in the winter, as it is often difficult to combine warmth and elegance. However, the global role gave enough time to think about a solution to this problem, and could dazzle us by presenting the elegant fur shoes that must be chosen for the winter of 2023.
Fur shoes models for an attractive look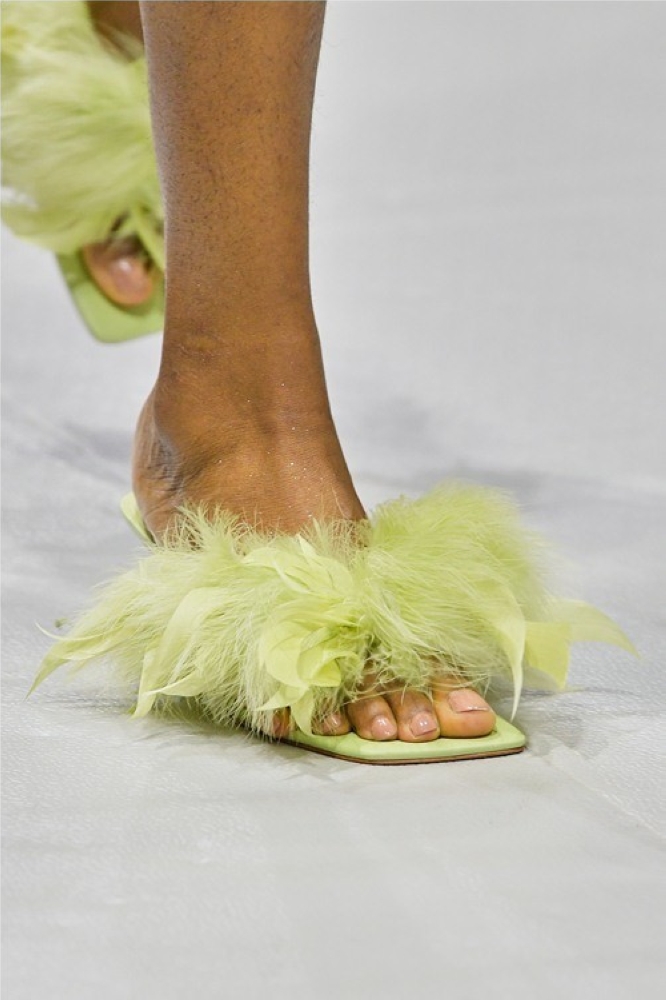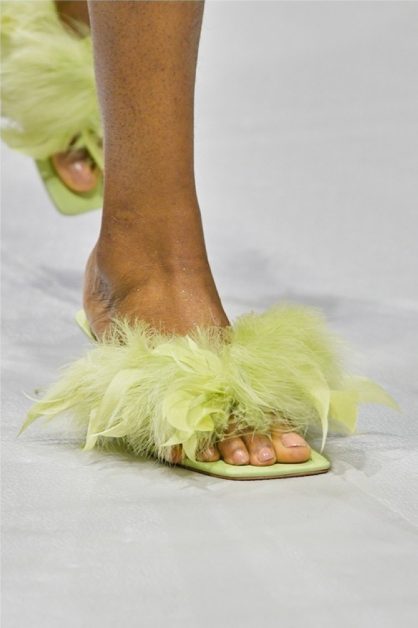 The models of fur shoes for the winter of 2023 appeared in a variety of unique designs, and the international houses were aware of presenting them in multiple colors in order to suit what you wear in a beautiful and attractive way. Many women like to wear shoes with a half-boot design, given that this design can only be chosen in winter, unlike many other shoes. On this basis, international brands combined warm and elegant fur with a half-boot design, in order to get an incomparable look. Choose it in dark brown, for example, with lots of straps, besides light beige fur that gives the shoe extra elegance.
If you are one of those who like practical and quick shoes that can be chosen at different times and with most looks, then we advise you to choose this elegant shoe from Loewe, with its soft gray color, to give you the warmth you are looking for and unparalleled elegance.
The designs of flat shoes will not be limited to the summer only, but the international fashion houses have been able to highlight them as a staple in winter as well, by presenting this distinctive shoe that came in several colors with studs on the front, for example. As for the fur, it came inside the shoes in a light brown color sometimes, to give you warmth and elegance at the same time.
You can wear this type of shoes with your casual outfits, and you can also coordinate them with soft dresses for a unique sporty chic look, besides being suitable for modern looks and contributing to putting a distinctive and bright touch on your look with a black or beige dress.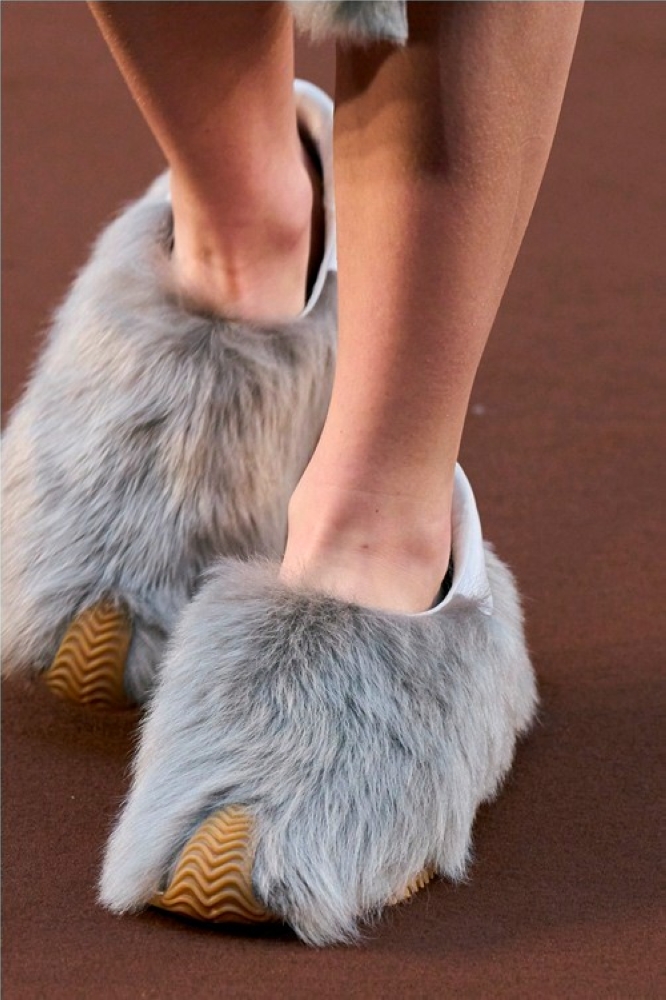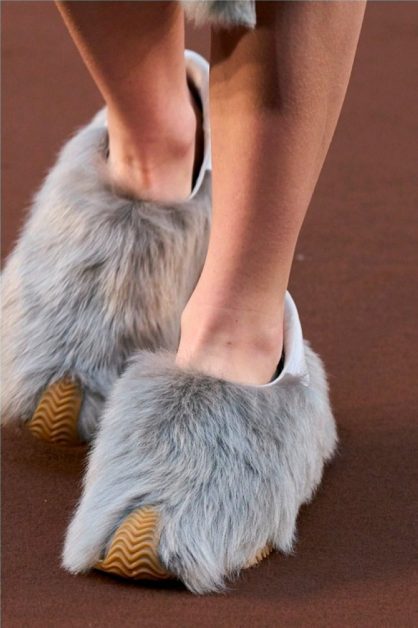 Fur shoes models for a modern look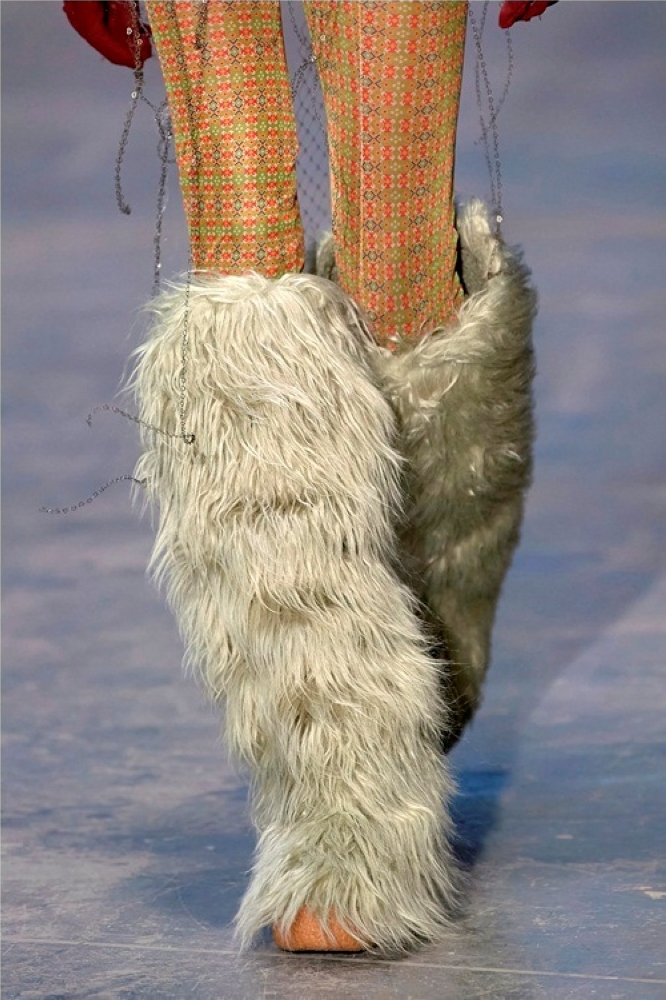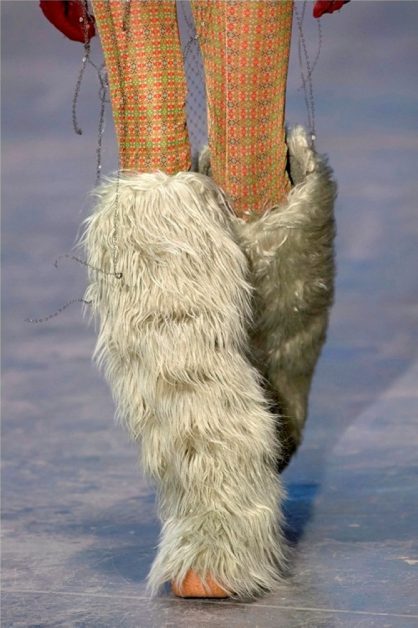 The shoe presented by Louise Lyngh Bjerregaard is distinguished by its modern and simple design. It is made of soft wool and fur and comes in white. You can wear it with jeans for a youthful and modern look. There is also no objection to resorting to flat fur shoes in gray and black colors, which are decorated with some soft accessories.
You can accessorize your elegant looks with a black dress or classic black pants with these shoes, and you can also add a touch of luxury to your casual outfits.
The clog shoe was an inspiration for many international brands that presented it from natural leather in black and lined with white fur. This shoe increases the elegance of your look thanks to its distinctive design and is suitable for casual daytime looks.
What distinguishes winter fur shoes is that they are suitable for wearing, whether at home to receive guests or outside.
And for your look to be radiant with the fashion of winter 2023 shoes, you can choose the piece that comes high with a high heel, and fur details protruding at the bottom of the legs with striking and gradient fabrics to the outside, with striking front lace details from the front, and a shout of ropes tied to the ankle with a lot of femininity. And you can shine in the most beautiful fashion of these shoes with the classic models that do not show the fingers, to choose the model with the fur expelled on all sides in a charming and attractive manner.